Small Local Business Program
Blue Cypress Consulting, LLC is a local small business certified in CCWA's Small Local Business Enterprise (SLBE) Program.  The firm is owned by Ms. Caroline Evans, located in Decatur, GA, and provides Community Planning, Public Outreach, GIS and Utility Management Services to public, non-profit, and private clients throughout the Southeast. To learn more about the firm please click on the video.
Our Commitment
To provide an additional race and gender-neutral tool for the Authority to use in its efforts to ensure that all segments of its local business community have a reasonable and significant opportunity to participate in Clayton County Water Authority (CCWA) contracting. To also foster effective, broad-based competition from all segments of the vendor community, including, but not limited to, minority business enterprises, women-owned business enterprises and small business enterprises. And, to provide additional avenues for the development of new capacity and new sources of competition for CCWA contracts from the growing pool of small and locally-based businesses.
Who should apply?
This program was established in an effort to promote the participation of small and local firms in the procurements of Architecture and Engineering, Construction, Goods and Services and Professional Services. Small firms locally based inside Clayton County and locally based outside of Clayton County but within the following ten (10) counties, specifically, Cherokee, Cobb, DeKalb, Douglas, Fayette, Fulton, Gwinnett, Henry, Rockdale and Spalding, should complete the SLBE General Certification Application.
Eligibility for the SLBE Program
Is an independently owned and operated for profit business concern;
Average annual gross receipts for the previous three years must not exceed (1) Construction Firms – $18,250,000; (2) Professional Services Firms – $5,500,000; (3) Architectural Firms – $3,750,000; (4) Engineering Firms – $7,500,000; and (5) Goods & Services – less than 250 employees;
Located and operated in Clayton County (For locally based inside Clayton County Designation) or Cherokee, Cobb, DeKalb, Douglas, Fayette, Fulton, Gwinnett, Henry, Rockdale and Spalding, for at least one year prior to submitting application for certification;
At least 51% owned by one or more of the applicant individuals identified and a citizen or lawfully admitted permanent resident of the United States and be compliant with the residency requirements of the SLBE Program.   For a list of the current CCWA certified small businesses, click the link below. CCWA Certified SLBEs
For More Information
To find out more about the SLBE Program, please contact our office Monday through Friday from 8 a.m. – 5 p.m. You may contact us via telephone at (770) 960-5880 or email us at ccwa_slbe_program@ccwa.us.   The SLBE Certification Application should be returned (by mail, email or in person) to: Clayton County Water Authority Procurement Compliance Coordinator 1600 Battle Creek Road Morrow, GA 30260 Phone: (770) 960-5880 Email: ccwa_slbe_program@ccwa.us SLBE Program Brochure (PDF)
Certification Types and Useful Links
How To Do Business Workshops and Information Sessions Learn about CCWA's Small Local Business Enterprise Program and procurement opportunities during our Information Sessions held at various locations throughout Clayton County.  Our SLBE Business Development Workshops provide valuable business and professional development tools to help grow and cultivate small businesses.  2022 SLBE Flyers: CCWA SLBE Information Series (pdf) CCWA SLBE Workshop Series (pdf)
Upcoming Workshop Dates
Thursday, October 20, 2022 @ 2 p.m.
CCWA's Marie Barber Community Use Room
1600 Battle Creek Road, Morrow
Click here to register.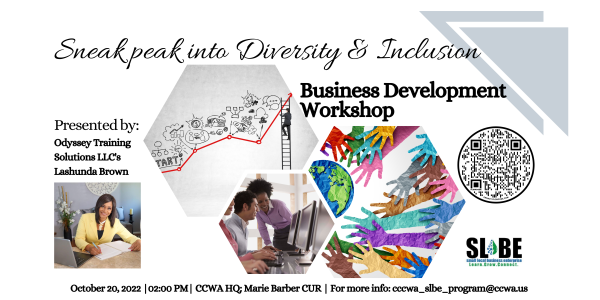 Upcoming Information Sessions 
Our Information Sessions are complete for 2022. Look for 2023 dates in late 2022.
We host an annual mixer in November for certified SLBE's to to meet CCWA leadership and staff and network with other SLBE's.
Click here to register.