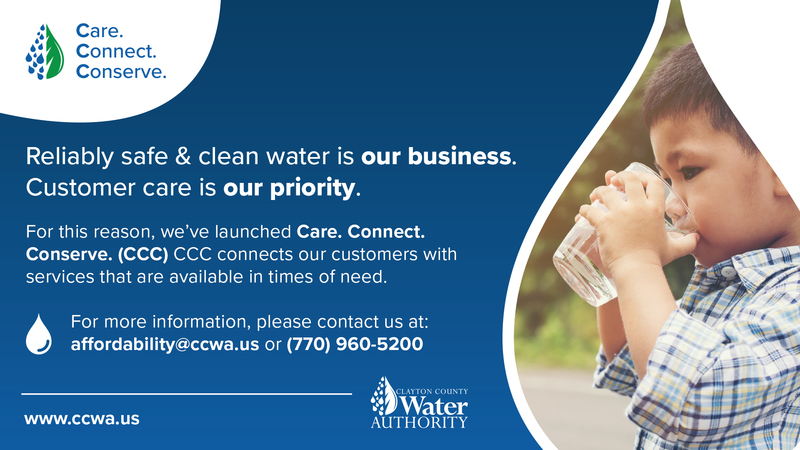 Clayton County Water Authority funds its Affordability Programs from cell tower revenue and its alliance partnership with Gas South.
Hardship Assistance Program
Please note:  Due to the COVID-19 pandemic, the maximum assistance for qualified customers has been temporarily increased to $400 during a 12 month period. This is in effect until December 31, 2021. 
CCWA's Hardship Assistance Program provides qualified customers up to $200 in assistance during a 12 month period. The assistance is applied as a credit to their account. The program is administered by Clayton County Community Services Authority, Inc. (CCCSA).
For more information or to apply for assistance with your water bill, click here, or contact CCCSA at 404.363.0575.
Free Seminar on How to Rebuild After a Financial Setback
CCWA is offering customers access to a free, online training provided by CIGNA. Click here to register and watch: Financial Setback? Regroup and Rebuild
Low-Income Discount Program
CCWA's new Low-Income Discount Program* provides qualified customers whose combined annual household income does not exceed $25,000 with up to a $5 discount on their monthly bill ($2.50 off water and $2.50 off sewer). Eligibility for the program is administered by Clayton County Community Services Authority, Inc. (CCCSA).
To be eligible for this program, customers:
Must meet income eligibility requirements (Contact CCCSA for details)
Must show proof of residency and income
To apply:
Complete the Low Income Discount Application
Take the completed application and required documentation to Clayton County Community Services Authority (CCCSA). For additional information, click here.
*CCWA's Low-Income Discount Program takes the place of CCWA's Senior Citizen/Veteran's Discount Program. Customers who were in enrolled in this program have been automatically enrolled in the Low-Income Discount Program.
Delayed Billing Program
A customer who qualifies for this program is eligible for their monthly bill to be rendered on the last working day of the month. Rendering the bill on this date will allow the customer to receive the bill to coincide with the receipt of their pension and/or social security checks. All due dates and cutoff dates will be computed from this special billing date.
To qualify for this program a customer must be 62 years or older. The customer should complete an application for Delayed Billing Program (print, complete, and return), return it along with proof of age from a picture ID.
Clayton County Community Services Authority
1000 Main Street
Forest Park, GA 30297
Monday – Friday between 8:30 a.m. and 2:30 p.m.
Once a customer qualifies for the program, CCCSA will notify CCWA and the discount will be applied within one billing cycle. Customers will need to requalify every two (2) years.
Budget Billing Program
Budget billing allows the customer to pay the same amount each month for 12 months, regardless of the actual amount used each month. This program would be beneficial to customers whose water use varies from season to season for various reasons.
The customer's water use from the previous 12 months is averaged for monthly billing. The Authority will continue to read the meter each month. The difference between the customer's bill based on their actual monthly use and the amount of their budget bill will be deferred each month. The "settle-up" between the customer's actual bill and their budget bill will occur on April 30th of each year. This difference will be disbursed out over the following twelve months.
To be eligible for this program, a customer must have 12 months of uninterrupted service with CCWA. Once on the program, the customer must maintain a good record of pay. If a customer on this program has three consecutive late fees or their service is discontinued for nonpayment they will be removed from the program and all deferred differences will be billed on the next monthly bill.
If you believe this program would be beneficial to you please print and complete the CCWA Budget Bill Agreement and mail it to Customer Service, Clayton County Water Authority, 1600 Battle Creek Road Morrow, Georgia 30260. If you have any questions or require assistance, please contact Customer Service at (770) 960-5200, then press 4.