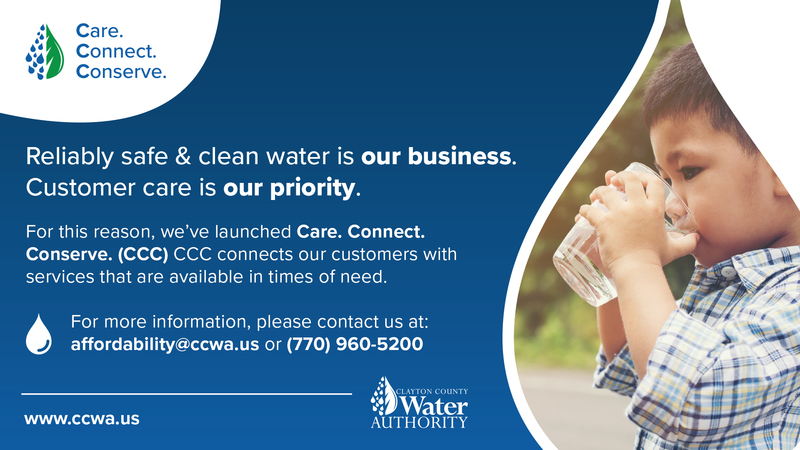 Please Note: Low Income Household Water Assistance Program (LIHWAP) has exhausted its funds temporarily. 
Low Income Household Water Assistance Program (LIHWAP) 
Clayton County Water Authority and Clayton County Community Services Authority, Inc. are partnering to bring the Low-Income Household Water Assistance Program (LIHWAP) to Clayton County residents. LIHWAP is a federal program that helps low-income households pay for drinking water and wastewater for their homes. This program will help pay your home water bill if the water bill is in your name, or if you can verify that you are experiencing a water burden. Funding is provided through the American Rescue Plan Act of 2021. The program aims to help low income households with utility bill payments.
The Low Income Home Water Assistance Program assists low-income households up to $300 in rate reduction and assistance with arrearages pertaining to their water bills. Water assistance is provided through this program once per calendar year and will operate until funds are exhausted. Assistance is based on the client's gross income and household size. Priority target groups include those whose bills are past due, age 60 or over, and/or persons with a disability, and/or at least with one child under 5 (five) years of age in the home.
LIHWAP will assist with:
Arrearages for Disconnected Households
Arrearages for Households At Risk of Disconnection
Reconnection and Late Fees
Reduction in Rate Charges for Current Bills (current bill payment)
LIHWAP does not assist with:
Household plumbing repairs
Arrearages or rate reduction payments to non-public water suppliers
Inactive/closed water account balances
Households with an arrearage on the most recent water bill will receive the past due amount presented on the bill, plus the rate reduction payment
The bill must be current and dated no older than 30 days prior to the intake appointment.
Contact Clayton County Community Services Authority, Inc. for more information on LIHWAP.
Clayton County Water Authority funds its Affordability Programs below from cell tower revenue and its alliance partnership with Gas South.
Hardship Assistance Program
CCWA's Hardship Assistance Program provides qualified customers up to $200 in assistance during a 12 month period. The assistance is applied as a credit to their account. The program is administered by Clayton County Community Services Authority, Inc. (CCCSA).
For more information or to apply for assistance with your water bill, click here, or contact CCCSA at 404.363.0575.
Free Seminar on How to Rebuild After a Financial Setback
CCWA is offering customers access to a free, online training provided by CIGNA. Click here to register and watch: Financial Setback? Regroup and Rebuild
Low-Income Discount Program
CCWA's Low-Income Discount Program allows all customers under 150% of the federal poverty level guidelines to receive a monthly discount up to $5 on their water and sewer bill ($2.50 off water and $2.50 off sewer). Eligibility for the program is administered by Clayton County Community Services Authority, Inc. (CCCSA).
To be eligible for this program, customers:
Must meet income eligibility requirements (Contact CCCSA for details)
Must show proof of residency and income
To apply:
Complete the Low Income Discount Application
Take the completed application and required documentation to Clayton County Community Services Authority (CCCSA). For additional information, click here.
Military Discount Program
CCWA's Military Discount provides a new discount option for customers who are active, reserve, disabled or retired military. Eligible customers should complete the program application below. Proof of active military or veteran's status will be needed via veteran or military identification card, DD214, or Driver's License with veteran's symbol.
Benefits include:
Waiving new service fee for new customers and the transfer fee for customers transferring service (both $25).
Courtesy removal of disconnect fee of $40 (two within a 12-month rolling period).
To apply, complete the application below and bring it to one of our Customer Service locations, along with proof of status referenced above. Or, you can mail it in with a copy of proof of status referenced above.
Clayton County Community Services Authority
1000 Main Street
Forest Park, GA 30297
Monday – Friday between 8:30 a.m. and 2:30 p.m.
Once a customer qualifies for the program, CCCSA will notify CCWA and the discount will be applied within one billing cycle. Customers will need to requalify every two (2) years.
Budget Billing Program
Budget billing allows the customer to pay the same amount each month for 12 months, regardless of the actual amount used each month. This program would be beneficial to customers whose water use varies from season to season for various reasons.
The customer's water use from the previous 12 months is averaged for monthly billing. The Authority will continue to read the meter each month. The difference between the customer's bill based on their actual monthly use and the amount of their budget bill will be deferred each month. The "settle-up" between the customer's actual bill and their budget bill will occur on April 30th of each year. This difference will be disbursed out over the following twelve months.
To be eligible for this program, a customer must have 12 months of uninterrupted service with CCWA. Once on the program, the customer must maintain a good record of pay. If a customer on this program has three consecutive late fees or their service is discontinued for nonpayment they will be removed from the program and all deferred differences will be billed on the next monthly bill.
If you believe this program would be beneficial to you please print and complete the CCWA Budget Bill Agreement and mail it to Customer Service, Clayton County Water Authority, 1600 Battle Creek Road Morrow, Georgia 30260. If you have any questions or require assistance, please contact Customer Service at (770) 960-5200, then press 4.