INVESTING IN TOMORROW TODAY 
Our Investment Adds Up for You!
Water
5 Raw Water Reservoirs
3 Treatment Facilities
42 mgd Capacity
1500 Miles of Pipeline
Sewer
3 Water Reclamation Facilities
38.4 mgd Treatment Capacity
1400 Miles of Pipeline
Stormwater*
Provides drainage structures to help protect property from flooding, sinkholes
500 miles of infrastructure
*Not funded by rates
A Message from our General Manager H. Bernard Franks
CCWA works hard to deliver safe, clean drinking water and sanitary sewer services to the more than 289,000 residents who call Clayton County home. Now more than ever we are also reminded of the critical role we play in public health.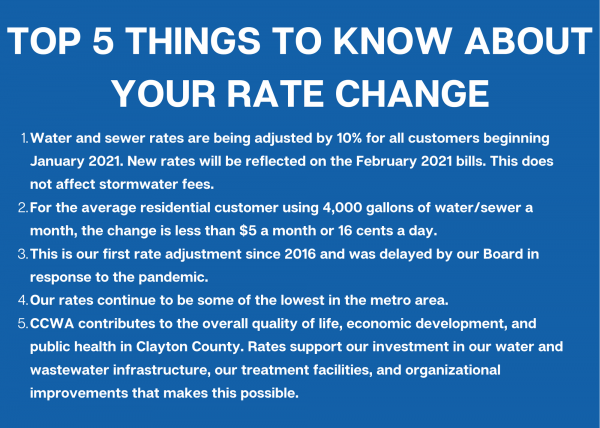 While the present may feel uncertain, we continue to plan for our future. This includes a rate adjustment starting January 1, 2021 so we can continue to make improvements throughout our system and across the organization based on our Strategic Master Plan. The investment CCWA makes now contributes to the overall economic development and quality of life in Clayton County for families today and tomorrow.
Every day our nearly 400 water professionals work to reduce and manage operating costs while proactively maintaining 1,500 miles of water lines, 1,400 miles of sewer lines, 500 miles of stormwater pipe, three water reclamation facilities and three water production facilities. We receive no tax dollars and rely entirely on water, sewer and stormwater revenues to fund operations.
We take our responsibility to provide quality water and quality service seriously and appreciate the trust our customers place in us to wisely invest rates back into Clayton County. On behalf of all of us at CCWA, thank you for letting us serve this great community.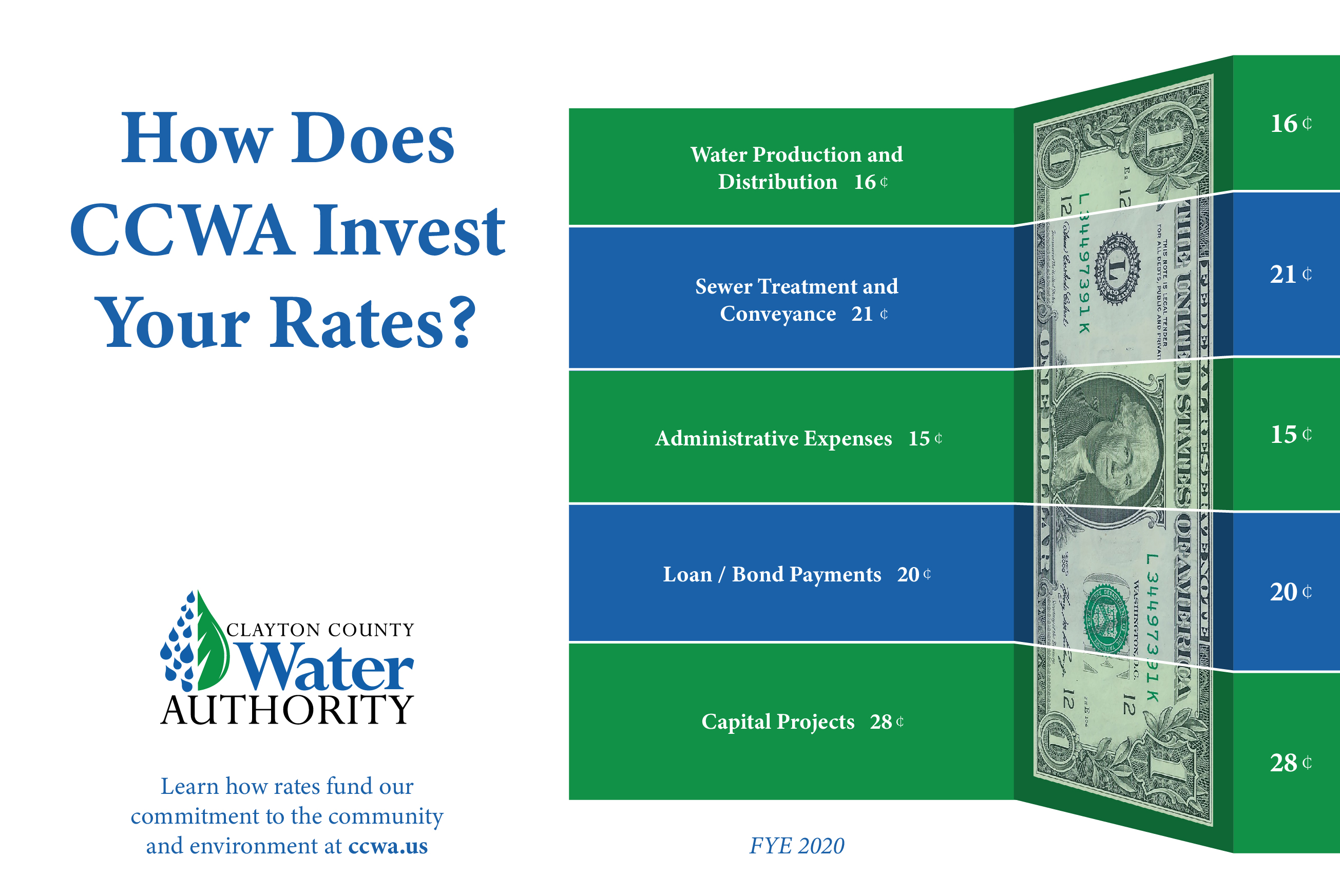 Frequently Asked Questions (FAQs)
Why is a rate adjustment needed?
As a water utility, we play a critical role in our community's public health. We do not receive any tax dollars, operating solely on water, sewer and stormwater revenues. We proactively maintain 1,500 miles of water lines, 1,400 miles of sewer lines, 500 miles of stormwater pipe, three water reclamation facilities and three water production facilities.
We must continue to plan for our future. Since 1960, CCWA has drafted 10-year master plans to set priorities to meet the community's needs in cost effective ways. The plan evolves to fit changes in regulations and in the community. The 2020 Strategic Master Plan has identified 146 projects totaling $626 million that are needed to maintain and improve infrastructure, facilities, and operations. These projects will take place over the next 10 years. The projects focus on improvements across our entire our organization from managing and planning capacity at our water and wastewater treatment facilities to rehabilitating infrastructure and improving our business practices in finance, technology, and security.
Even with the rate adjustment, we will need to secure low-interest loans to complete these efforts while maintaining affordability. By investing in our infrastructure today, we are keeping future generations from taking on the burden of much higher rates.
What are the current rates?
How do these rates compare with others in the metro area?
Even with the changes in rates, CCWA will still have some of the lowest rates in the area that are below average for water/wastewater utilities in the state. Average monthly residential bills will also be less than some one-time local dining and entertainment options, such as a family dinner for four at a casual restaurant or a family night out at local movie theater with popcorn and drinks.
Here's how we stack up with other metro area utilities: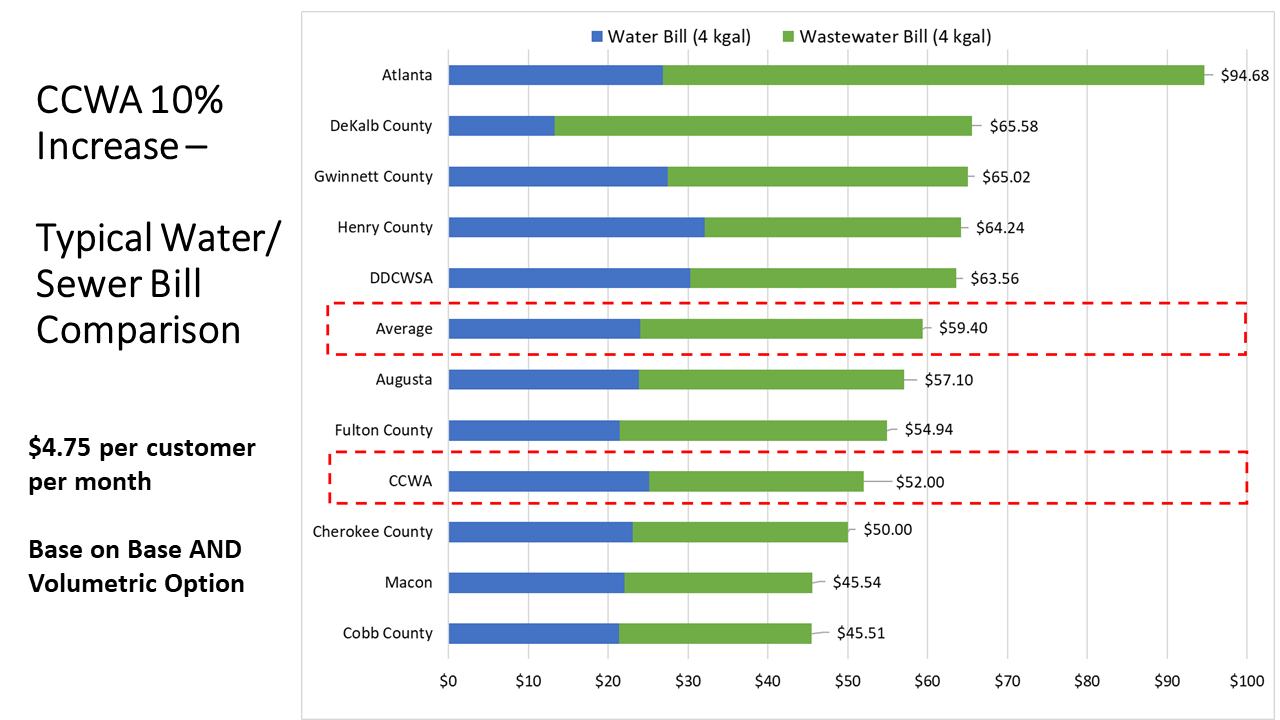 What about customers who may face challenges in paying their monthly bill?
We're proud of local partnerships that fund our affordability program Care.Connect.Conserve. CCC connects our customers with local services that are available in times of need without using any money from ratepayers. Our hardship assistance and senior citizen discount programs are administered by Clayton County Community Services Authority, Inc. (CCCSA). To learn more about any of these options, please visit www.ccwa.us/affordability-programs. Even if these programs don't fit your need, please reach out to us to see how we might be able to help.
How can I get more information?
If you have additional questions or need more information, please contact us at ccwa_communityrelations@ccwa.us.