The Clayton County Water Authority's Stormwater Utility is responsible for all stormwater activities in unincorporated Clayton County and the cities of Forest Park, Jonesboro, Lake City, Lovejoy, Morrow and Riverdale.  These activities include Construction Plan Reviews and Inspections, Floodplain Management, Illicit Discharge/Illegal Connection Inspections and maintenance of stormwater infrastructure within the road right-of-way and directly connected to the right-of-way.  The diagram below shows the level of service provided by CCWA's Stormwater Utility.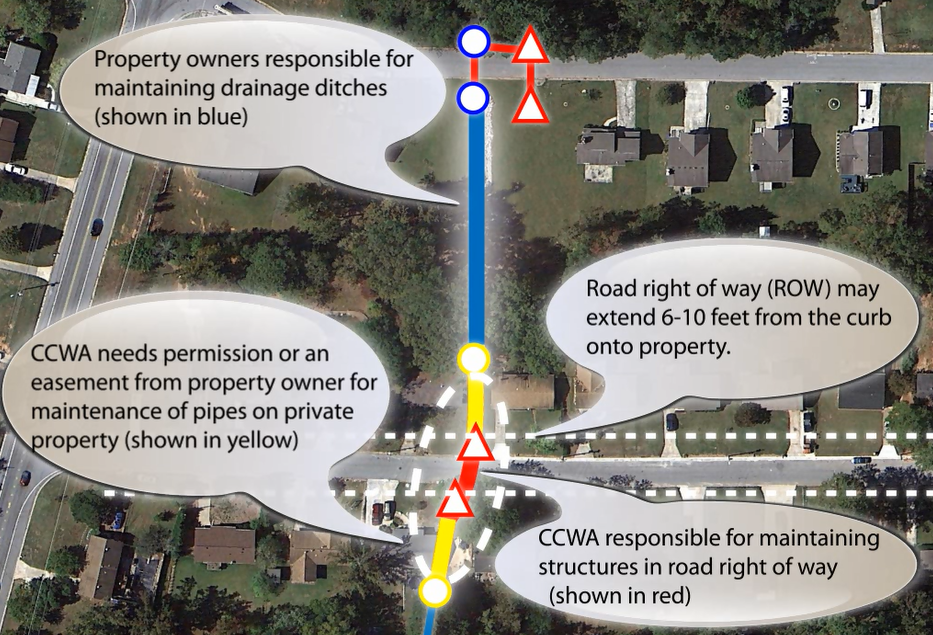 What is impervious surface?
Impervious surfaces are mainly artificial structures such as roads, sidewalks, driveways, parking lots and rooftops that are covered by impenetrable materials such as asphalt, concrete, brick or stone. These materials, as well as highly compacted soil and gravel surfaces, prevent rainwater from soaking into the ground. This creates runoff that causes everything from flooding, to water pollution, to streambank erosion and more.
How much is the fee?
Residential properties are billed $3.75 per month. Non-residential properties (such as commercial or multi-family) are billed based on the actual amount of impervious surface located on the property. Actual impervious surface is determined by using aerial photography that is digitized and matched to the County's tax records. CCWA customers receive a monthly stormwater fee on their water and sewer bill.
Why am I charged a Stormwater Fee?
Delivering a service requires funding. Stormwater management includes a range of services such as replacing failing pipes, cleaning and repairing catch basins, restoring drainage ditches that are in the right-of-way or directly connected to the right-of-way, and much more. Stormwater fees were established to ensure a dedicated fund is available to deliver these critical services. All monies collected as stormwater fees remain separate from CCWA's water and sewer funds, and is used only to deliver stormwater services.
What is Stormwater?
When it rains, impervious surfaces such as driveways, parking lots and rooftops can cause stormwater to 'runoff' into ditches, storm drains and other stormwater infrastructure. This runoff picks up trash, chemicals, dirt, yard waste, animal waste and other pollutants that get into our lakes, streams, rivers and eventually our reservoirs that are the community's water supply.
Does Stormwater affect our drinking water?
Yes! When pollutants from stormwater get into the reservoirs that provide our community's water supply, the water quality is reduced. The more polluted the water is going into our reservoirs, the more costly it is to treat and produce clean, safe drinking water.
How does Stormwater create flooding?
Increasing the amount of stormwater runoff in ditches and storm drains can cause them to overflow, resulting in flooding of roadways, yards, homes and businesses. Flooded roadways can impact emergency service operations and be dangerous to drivers and cause vehicle accidents.
Why is a Stormwater Utility Needed?
Stormwater can create problems like flooding and sinkholes across Clayton County. Having one agency responsible for managing these issues means more efficient and cost-effective service to residents and businesses across the entire community. The Stormwater Utility also helps Clayton County meet federal and state water quality standards that become harder to meet as our county continues to grow. The Clayton County Stormwater Utility is the fairest way to provide a dedicated funding source for countywide stormwater management.
Top Constituent Concerns
What are Stormwater Utility fees used for?
Stormwater Utility fees are dedicated exclusively to stormwater management activities
Who is responsible for neighborhood drainage and retention pond maintenance?
The Homeowners Association or the developer is typically responsible
For unfinished subdivision ponds, the developer or the bank holding the lots is responsible 
Who is responsible for overflowing stormwater pipes or inlets?
Overflows from stormwater facilities within or directly connected to the right-of-way are the responsibility of the Stormwater Utility
All other overflows are the responsibility of the property owner or another jurisdiction
I'm not a CCWA customer. Why do I have to pay the stormwater fee?
All property owners in Clayton County and its Cities contribute to the fund to pay for the stormwater management services because all developed properties contribute to stormwater runoff. Some create more runoff than others because of the amount of impervious surface they have, so stormwater fees are set to be equitable based on an actual determination of that surface.
The fee for residential property is based on a "Stormwater Unit" – what is that?
One Stormwater Unit equals 2,950 square feet which is the typical amount of impervious surfaces on a property with a single family residence. This unit was developed by a process that included analyzing aerial photography of nearly 10% of all single-family residences across Clayton County to determine the amount of impervious surface each had. The average was 2,950 square feet.
How was the fee for a Stormwater Unit calculated?
All single-family residential properties are treated as single customer classification and are charged a flat fee of $3.75 per month per residence. Fees for other developed properties are calculated based on actual impervious surface.