Boil Water Advisories
Clayton County and its cities depend on the Clayton County Water Authority (CCWA) for the delivery of clean, safe water. If there is service interruption that causes CCWA's system pressure to drop below 20 psi, a boil water advisory is required by the Georgia Environmental Protection Division (EPD). Advisories tell individuals, schools, hospitals, businesses, and others about the situation and how to take immediate action, if necessary.
If an advisory is issued for the Clayton County area, current information and updates may be found on CCWA's website: www.ccwa.us and CCWA's Facebook page @ClaytonCountyWater. Media is also notified so they can help us inform our customers..
What is a boil water advisory?
A boil water advisory is a public notification from CCWA to communicate that water should not be consumed by customers without first being boiled for at least one minute after reaching a rolling boil. Advisories are issued as a precautionary measure to protect public health when there is a potential problem with the water distribution system or water quality.
What causes CCWA to issue a boil water advisory?
Typically, the most common reason for an advisory to be issued is due to a water main break repair or loss of pressure in our water system. Other potential events prompting a boil water advisory include, but are not limited to, flooding, power outage, microbiological contamination, chemical spills, harmful algal blooms, or intentional contamination.
What is the typical boil water advisory timeline?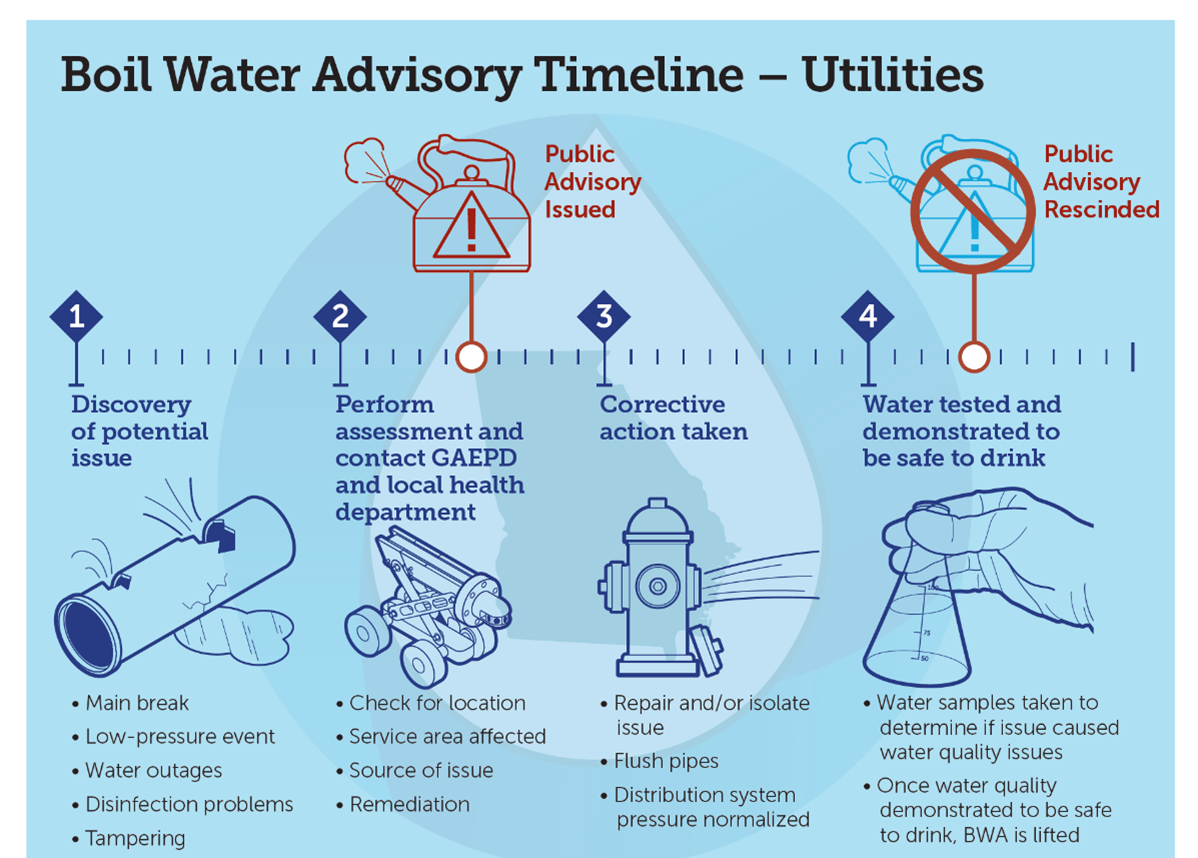 How are customers notified?
CCWA will notify customers via an outbound dialing campaign to affected customers, CCWA's IVR (phone system) hold messaging, CCWA's website (www.ccwa.us), Facebook page (@ClaytonCountyWater) and by sending a media release to local tv stations and newspapers.
What exactly should customers do during a boil water advisory?
In order to protect the public from a potential health hazard, customers should use only boiled tap water or bottled water for drinking, cooking, or preparing food. They can continue to use tap water for washing their hands, showering/bathing and laundry.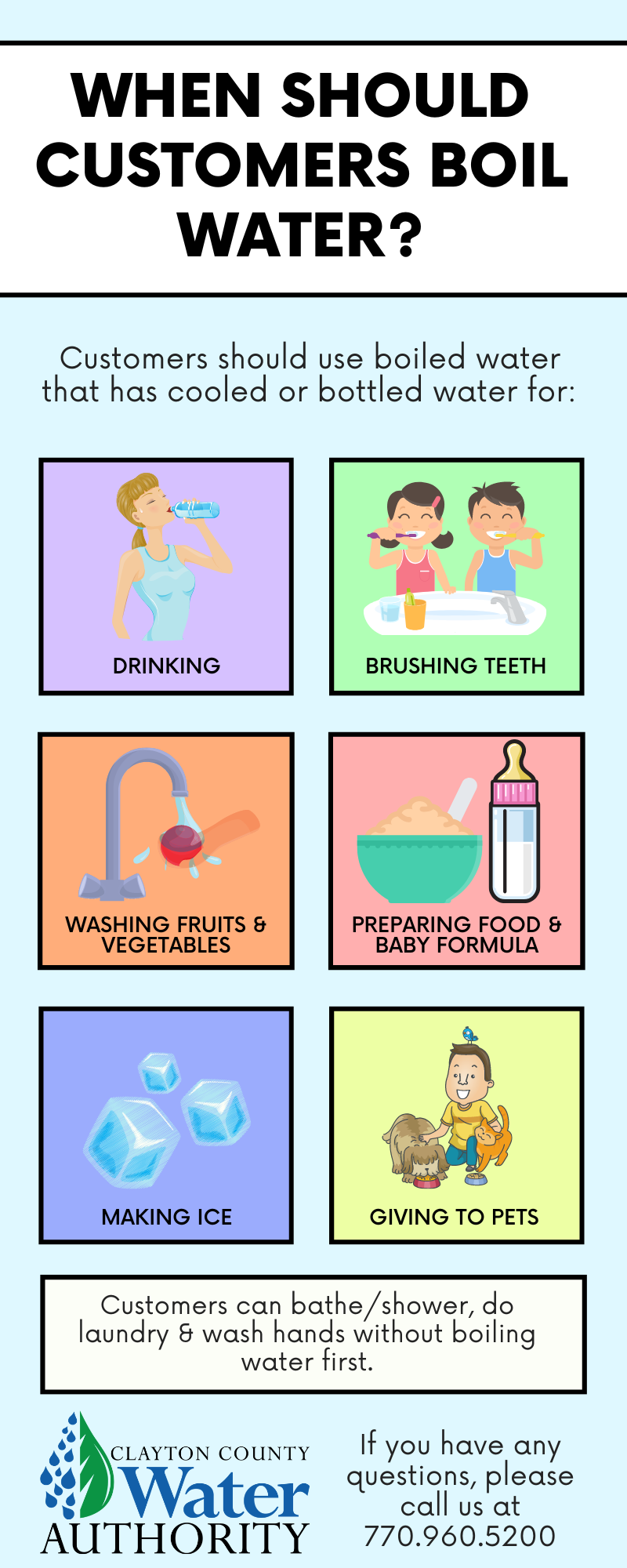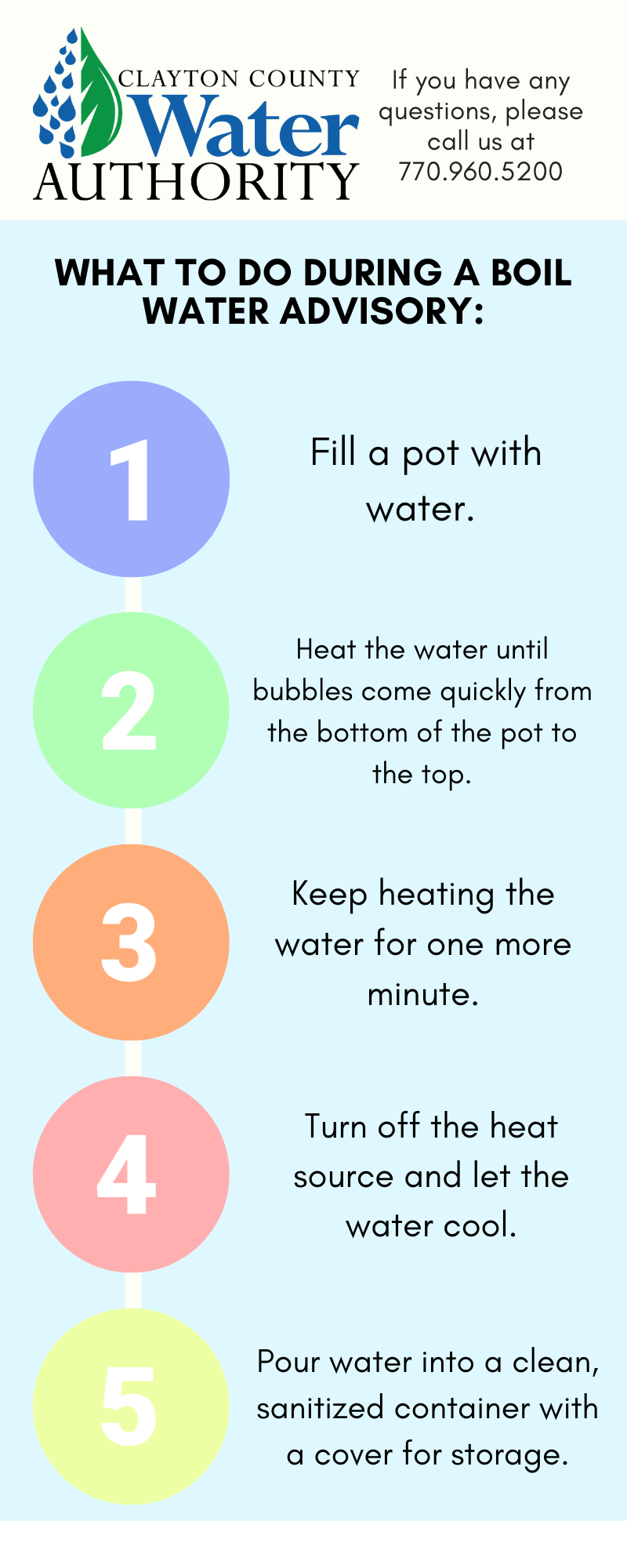 How long does a boil water advisory last?
The advisory is in effect until CCWA's has done the appropriate testing to be confident that there is no longer a public health concern. Before testing can take place, time is needed to repair the issue and then typically at least 24 hours for the test to come back. Customers will be notified immediately when the Advisory is lifted using the same communication channels used to notify customers of the BWA.
Restaurants and other food establishments must take the following precautions:
If your facility has no running water and/or toilets that will not flush, you MUST CLOSE business operations immediately. If your facility has running water but you are located in one of the affected zip codes, you MUST FOLLOW these precautions:
All water provided to customers for drinking must be commercially bottled or boiled water.
All foods that must be washed, rinsed or soaked must be done with commercially bottled or boiled water. If you use boiled water, allow it to cool before use.
All water used as an ingredient in food products must be commercially bottled water or water that has been boiled rapidly for 1-3 minutes. Be sure to let water cool before use.
When preparing food which will be boiled in water, you may do so as long as the water is brought to a rapid, rolling boil for at least 1-3 minutes. Be sure to let water cool before use.
Beverage (soda and iced tea) machines used to dispense cold beverages MUST NOT be used. The lines connected directly to the tap water for mixing must be disconnected.
Coffee brewers and hot tea towers may operate if water temperatures are maintained between 195°F to 250°F.
All ice must be made with commercially bottled water or must originate from a commercial ice supply distributor. Discard all ice from automatic ice machines.
Do not use tap water for hand washing. Use a commercial hand sanitizer, bottled water or water that has been boiled 1-3 minutes. Be sure boiled water is cooled before use.
All equipment and utensils must be washed and sanitized with bottled or boiled water, or sanitized in dishwashing machines that have a dry cycle or a final rinse that exceeds 113°F for 20 minutes or 122°F for 5 minutes or 162°F for 1 minute.