Rates, Fees & Billing for Commercial Accounts
Rates & Fees
Clayton County Water Authority (CCWA) does not receive any tax dollars, operating solely on water, sewer and stormwater revenues. Our water and sewer base rates allow us to cover our fixed costs, such as meter reading, billing, and maintenance of our distribution and conveyance systems. This also provides a true cost of service and an incentive for customers to use less water.
Meter readings are taken each month. Customers are then billed monthly for water and sewer services, plus a stormwater fee.
The following water and sewer rates are effective beginning with usage on January 1, 2021. If you have a question about your rates or bill, please contact our Customer Call Center Monday – Friday between 8 a.m. – 5 p.m. at 770.960.5200, then press 5.
Commercial/Industrial Base Rates: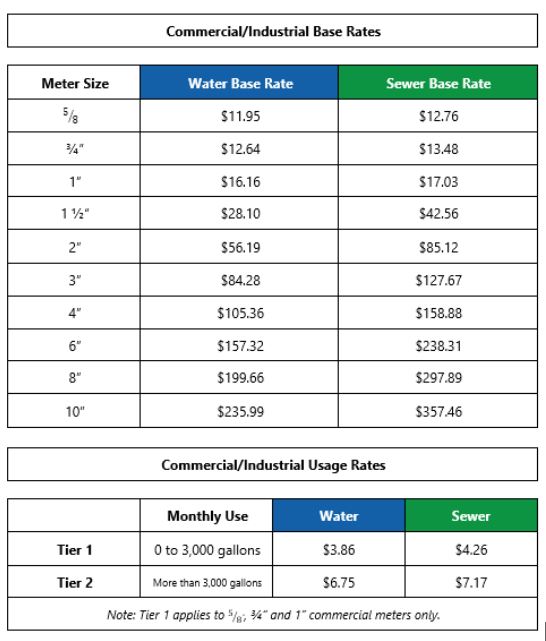 To Sign up for Paperless Billing:
Set up Online Account Access with CCWA.
We must have the last four digits of your Social Security Number or Tax Identification Number on file. This information is needed for us to protect access to your account. If you need to provide this information, or if you want to verify that CCWA already has it on file, please contact CCWA Customer Service at 770.960.5200, then press 5.
If your email address changes, please make sure you update your Online Account Information.
Please note, if for any reason you do not receive your Paperless Billing notification, you are still responsible for paying the amount due and any late fees.
All you need to sign up for this feature is:
Your 8-digit account number from your most recent water bill
The last four digits of your Social Security Number
A valid email account
Click on the link below to set up Online Account Access. You must enter your name exactly as it appears on your bill.
Once you have accessed your online account, follow the steps listed below.
To Sign up for Paperless Billing if you already have Online Account Access:
Click on the link below

Sign in to your account

Click Web Access/Billing Options

Select Ebill Only

Click Submit
Continue to Online Account Access for Paperless Billing
If you experience any difficulties accessing this system, please contact the CCWA Call Center at 770.960.5200, then press 5, during regular business hours (Monday – Friday 8 a.m. – 5 p.m.).