Water & Your Health: PFAS 
Clayton County Water Authority (CCWA) is at the forefront of public health and takes seriously our responsibility to deliver clean and safe drinking water to the community. As you are probably aware, there recently have been numerous national and local news stories on Per- and Polyfluoroalkyl (PFAS), and it being found in water, air and soil. Importantly, CCWA does not produce PFAS in our treatment process, as its presence is a result of industrial release and discharges from other sources. Here is some information to help explain PFAS and what we are doing here at CCWA. 
"Clayton County Water Authority is at the forefront of public health and takes seriously our responsibility to deliver clean and safe drinking water to the community. To our customers, we want you to remember Clayton County Water Authority is not the producer of these chemical compounds. However, we are tasked with the responsibility of treating and removing them, at significant cost to the Authority.

We are currently meeting and exceeding all regulatory requirements for safe drinking water. In the near future, As EPA moves forward with the new regulatory requirements, we are confident that we will continue to make the necessary improvements to maintain the trust of our customers and the community. As a lifelong resident of Clayton County, along with several family members, we continue to drink and enjoy tap water. We have always appreciated the quality water and quality services CCWA provides. We are an award-winning utility who takes great pride in caring for one of the world's greatest and life sustaining resources- WATER."

H. Bernard Franks, Chief Executive Officer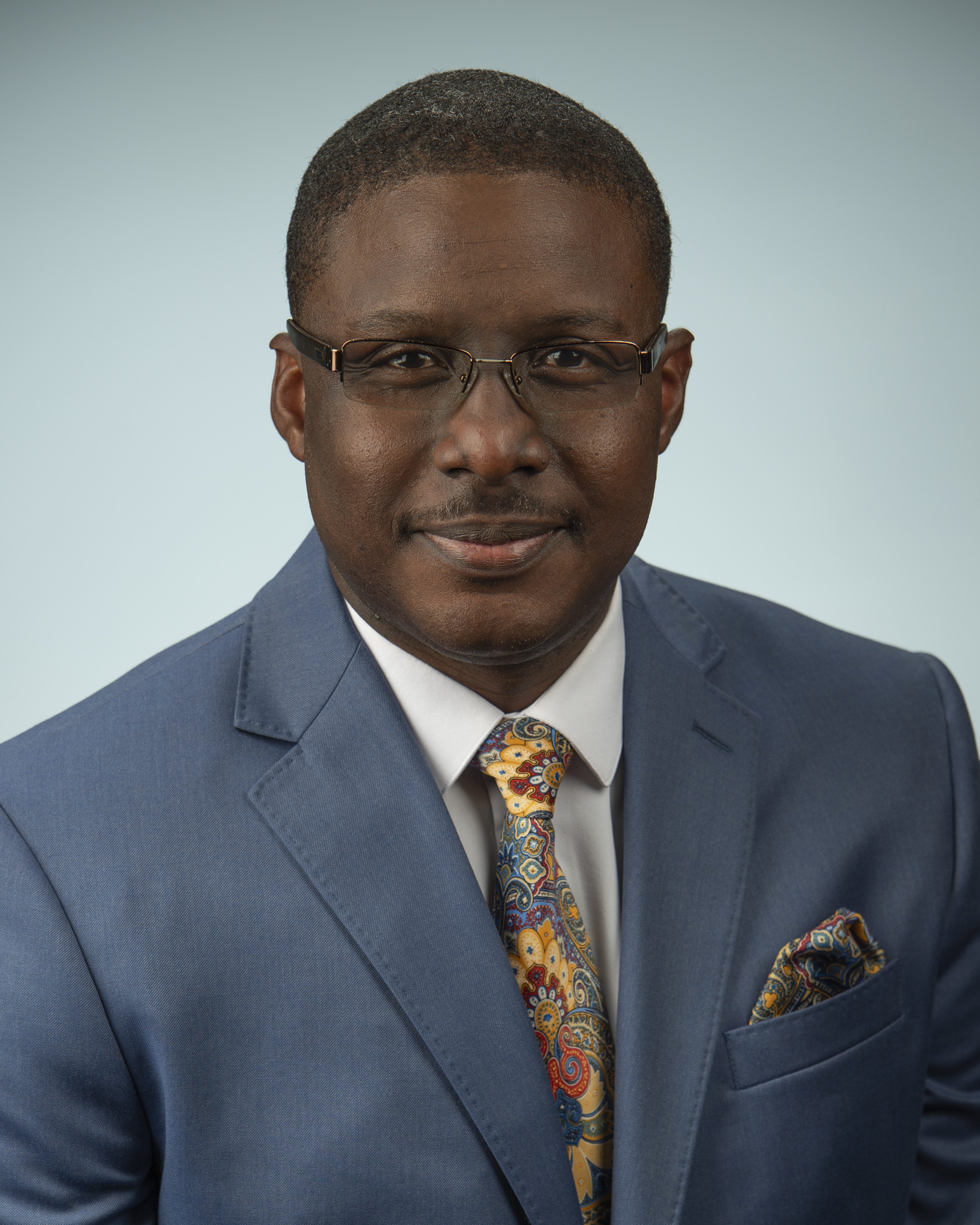 FREQUENTLY ASKED QUESTIONS
What are PFAS?
PFAS are man-made chemicals that have been used in industry and consumer products worldwide since as far back as the 1940s. PFAS were created with the intent to make our lives easier. They have been used in non-stick cookware, water-repellent clothing, paper packaging for food, stain resistant fabrics and carpets, personal care products like shampoo, dental floss nail polish and eye makeup, some firefighting foams, and products that resist grease, water, and oil. The most commonly studied PFAS are perfluorooctanoic acid (PFOA) and perfluorooctane sulfonic acid (PFOS).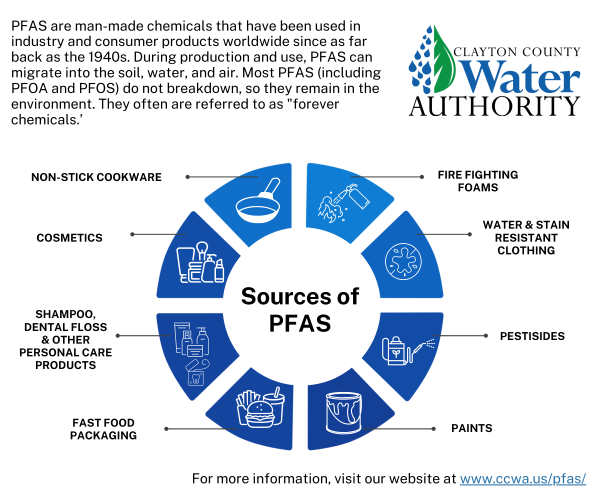 During production and use, PFAS can migrate into the soil, water, and air. Most PFAS (including PFOA and PFOS) do not breakdown, so they remain in the environment. They often are referred to as 'forever chemicals.' Because of their widespread use and their persistence in the environment, PFAS are found in the blood of people and animals all over the world and are present at low levels in a variety of food products and in the environment. Some PFAS can build up in people and animals with repeated exposure over time.
How are people exposed to these chemical compounds?
According to EPA's analysis, 20% of an individual's exposure comes from drinking water. The remaining 80 percent of exposure comes from consumer goods (cookware, food wrappers, cosmetics, stain/water resistant clothing, carpet and furniture treatments).  
How does PFAS get into drinking water?
They can enter the environment from fire training and response sites, industrials sites, and landfills where the products are used or stored and then wash into local waterways and even groundwater sources. We did not produce PFAS or put these compounds in our drinking water, but we are committed to treatment processes that remove them. Our drinking water continues to meet all state and federal regulatory requirements.
What does a health advisory for PFAS mean?
What does a Health Advisory for PFAS mean?
Health advisories are technical guidance and provide information on contaminants that can cause human health effects and are known OR anticipated to be in drinking water. EPA's health advisories ae non-enforceable and non-regulatory. The health advisory level is the minimum concentration of a compound which may present health risks to an individual over a lifetime of exposure (70 years). Health advisories look at lifetime exposure and take into account other sources of PFAS exposure, such as consumer products.
• EPA's initial health advisory level for PFOA and PFOS in 2016 was set at 70 parts per trillion.
• To provide Americans, including the most sensitive populations, with a margin of protection from a lifetime of exposure to several PFAS compounds, the EPA set the following health advisory levels (HALs) on June 15, 2022.

It's important to note that current testing methods can only detect PFOA and PFOS down to 4 parts per trillion. However, interim health advisories are significantly below the level of detection. You may be wondering, what is meant by parts per trillion? A part per trillion is a measurement of the quantity of a substance in the air, water or soil. One part per trillion in water is equivalent to one drop of water in 20 Olympic sized pools, which average 660,000 gallons.  
*Note: 1 nanogram per liter (ng/L) is equal to 1 part per trillion (ppt).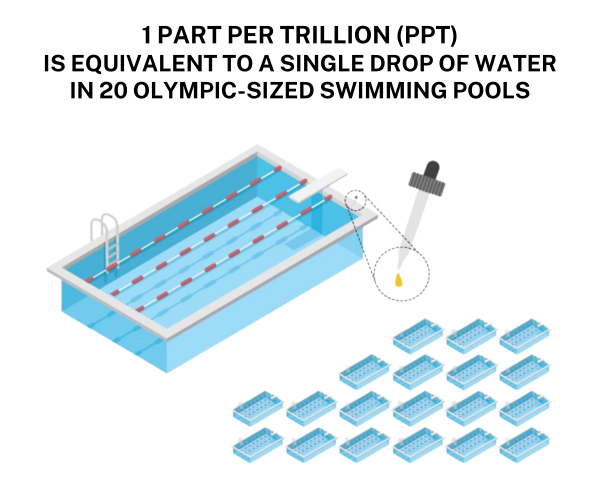 What is CCWA doing about PFAS?
CCWA implemented a comprehensive sampling program to identify PFAS compounds in our water system and began our monitoring program in 2020. CCWA determined that long-term, we would treat for PFAS despite being well below the Health Advisory issued in 2016. We have been proactively working with the Georgia Environmental Protection Division (GA EPD) to test and monitor for PFAS compounds in anticipation of potential regulation.
Advanced treatment technologies such as granular activated carbon (GAC) and reverse osmosis perform best at removing small levels of PFAS compounds found in our water supply. CCWA is currently conducting a study to determine the most optimal treatment technology for our water. These technologies are very expensive, so CCWA is seeking all financial opportunities for low interest loans and grants to help reduce the financial burden on our rate payers. In August 2023, CCWA was awarded a $16 million Drinking Water State Revolving Fund loan by the Georgia Environmental Finance Authority (GEFA). We also anticipate receiving an additional $14 million federal grant for emerging contaminants from GEFA. These funds will be used to fund the design phase for treatment improvements at two of our water treatment plants.
What are the proposed EPA regulations and how does CCWA water compare?
On March 14, 2023, EPA issued its Draft Rule, the proposed National Primary Drinking Water Regulation (NPDWR), for six PFAS including: perfluorooctanoic acid (PFOA), perfluorooctane sulfonic acid (PFOS), perfluorononanoic acid (PFNA), hexafluoropropylene oxide dimer acid (HFPO-DA, commonly known as GenX Chemicals), perfluorohexane sulfonic acid (PFHxS), and perfluorobutane sulfonic acid (PFBS). The proposed PFAS NPDWR does not require any actions until it is finalized. EPA anticipates finalizing the regulation by the end of 2023.
If the PFAS rule was in place today, these are the test results CCWA would be reporting to GA EPD based on quarterly samples collected Sept 2022 – June 2023.

Results of the samples collected in 2022 by Georgia EPD at our three Water Production Plants can be viewed on Georgia EPD's website: PFOA and PFAS Information.

CCWA Activities: 
The 2020 Strategic Master Plan (SMP) identified PFOA/PFOS as a potential regulated compound. 

An SMP project "20-310 Enhanced Source Water Monitoring Program" was identified.  This project is to develop a monitoring program that will enable CCWA to develop a baseline of existing contaminants of concern, which includes PFAS.  This baseline monitoring and trending will provide an early warning of changes in the target compounds that will trigger the need for treatment and provide historical influent range if treatment is needed.   

CCWA began PFAS monitoring in 2020 and have continued to expand that sampling program since it began.  

CCWA determined that long-term, we would treat for PFAS despite being well below the Health Advisory.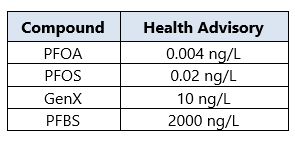 CCWA Activities: 
CCWA Board of Directors approved a PFAS Treatment Technology Evaluation project in October 2022 

The purpose of this project is to determine the optimal PFAS treatment technology for each facility.   
EPA is proposing to regulate the six compounds shown below. Current testing can only be done on 29 PFAS compounds out of thousands.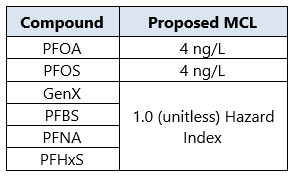 CCWA Activities:  
CCWA's plans are not only to look at removing the six proposed PFAS compounds but to look at removing all thousands of PFAS compounds. Our goal is to deliver safe clean drinking water to our customers. CCWA will plan to achieve this goal by implementing a technology that removes all PFAS compounds and protects its customers from things that aren't regulated by EPA at the moment. 

In April 2023, CCWA staff proposed a strategy to address capacity and pending regulations. The following Project was proposed:  
Add PFAS Treatment to Hooper Water Production Plant (WPP) (20 mgd)  

Decommission Smith WPP plant (12 mgd)  

Modify Hicks WPP Site  
Add 20 mgd capacity to Hicks WPP (10 mgd)  

Include PFAS Treatment for total flow of 30 mgd  
In August 2023, the Board of Directors approved an authorization to assist CCWA in procuring a Design-Build team for the Project called "Advanced Drinking Water Treatment & Hicks WPP Expansion – Owner Advisor Procurement Support."  
In September 2023, the Board of Directors is being asked to approve an authorization to assist CCWA in developing and defining the Basis of Design Report called "Advanced Drinking Water Treatment & Hicks WPP Expansion – Owner Advisor Engineering Support."