Rodney Givens
Secretary/Treasurer
Rodney Givens brings an engineer's eye to CCWA's Board of Directors. As a Civil and Architectural Engineer, Givens' background gives him insight into the complex engineering aspects of the water industry. Appointed to the board in March 2010, Givens was elected Vice Chairman in February 2015. In January 2018, he was elected Secretary/Treasurer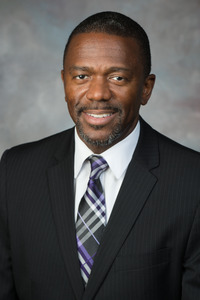 Givens says underground infrastructure is definitely on his radar. Customers know water and wastewater plants are needed for us to provide them with clean, safe drinking water and safely treat wastewater after it leaves their home or business, but he adds that underground infrastructure is just as critical to CCWA's operations.
"The Authority spent the last 10 years getting our water production and water reclamation facilities upgraded so they are up-to-date and have adequate capacity for our needs. Now, we need to focus on our aging infrastructure. It may be out of sight for customers, but it is critical that we continue replacing or rehabilitating our water and sewer pipes so that we don't wind up in a critical situation down the road. Our 2010 Strategic Master Plan does a good job addressing our infrastructure needs."
Looking ahead, Givens says CCWA has to balance needed maintenance while operating as efficiently as possible. "We face the same challenge that all water utilities face, maintaining our infrastructure while keeping our rates reasonable," he adds.
Givens is a native of Memphis, Tennessee who moved to the Atlanta area in 1993. He and his family have lived in the Jonesboro area since 1996.
Long before he joined the board, Givens said he had a great respect for the Water Authority. "I've always thought the Authority was a well-run, well-respected organization. As a board member, I hope to continue with the tradition set by previous boards and to do all that I can to keep us a leader in our industry."