Thornton Boulevard Culvert Replacement Project Begins July 15
Project includes road closure and detour during construction
Morrow, Georgia – – The Clayton County Water Authority's (CCWA) Stormwater Utility is replacing a 60" corrugated metal culvert on Thornton Boulevard in Jonesboro, closing a portion of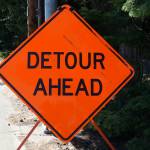 Thornton Boulevard for approximately four (4) weeks.
Construction on the project is scheduled to begin July 15. While construction takes place, Thornton Boulevard will be closed just north of Byrom Parkway. Road closure and detour signs will be placed in the area to advise motorists of traffic restrictions.
This culvert allows stormwater to flow under the road to Line Creek. During an inspection by CCWA staff, it was determined that the culvert needed to be replaced. A small point repair has already been performed, but that was a temporary measure leading up to this replacement effort.
Residents can stay up to date on progress on this website and via Facebook (@ClaytonCountyWater).