NSC Announces CCWA As Finalist For 2023 Green Cross for Safety Award
September 15, 2023 – (Morrow, GA) – Clayton County Water Authority's (CCWA) Mobile Illuminated Traffic Center Hub (M.I.T.C.H'™) is a finalist for the National Safety Council's 2023 Green Cross for Safety Innovation Award.
The National Safety Council (NSC) recognizes outstanding advances in safety through a variety of annual award programs. Among the most prestigious are the Green Cross for Safety® awards. According to NSC, "nominees and recipients demonstrate alignment with our mission to save lives and prevent injuries, from the workplace to anyplace". The NSC Green Cross for Safety awards honor three types of achievement each year: Safety Advocate, Safety Excellence and Safety Innovation. NSC will announce the winners on Monday, October 23.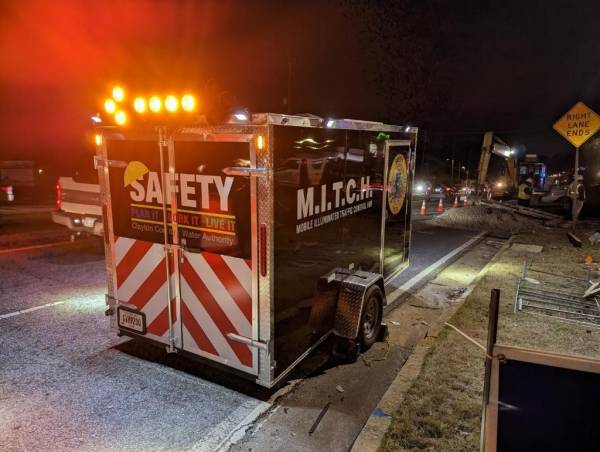 CCWA is a finalist for the Safety Innovation Award, which recognizes a researcher, corporation or organization that has achieved success addressing a long-held challenge in safety with a new or novel approach.
Highway work zones are hazardous environments. CCWA's utility repair crews must be able to respond to emergencies rapidly to eliminate hazardous conditions to the public. Visibility is the key to gaining the attention of approaching motorists and alerting them of the hazards ahead. Late on January 14, 2022, a CCWA employee was severely injured by a motorist in a work zone during a water main repair. M.I.T.C.H™ was designed as a response to provide increased visibility and an advanced warning of the work zone. M.I.T.C.H™, which uses renewable energy resources, is a 6'x12' fully enclosed trailer equipped with internal and external LED lighting, flashing strobes, retroreflective graphics, an LED arrow board and more. Since being deployed in November 2022, results include a reduced emergency response time from up to 1.5 hours to under 30 minutes as well as increased productivity, fuel savings, motorist work zone awareness and worker visibility. Others in the utility industry and safety product manufacturers have expressed interest in its design. CCWA plans to continue to develop and share safety innovations.
About the National Safety Council
The National Safety Council is America's leading nonprofit safety advocate – and has been for nearly 110 years. As a mission-based organization, we work to eliminate the leading causes of preventable death and injury, focusing our efforts on the workplace, roadway and impairment. We create a culture of safety to not only keep people safer at work, but also beyond the workplace so they can live their fullest lives.