Josh' Journey – CCWA Communications Intern Josh Webb shares what he is learning on his journey in the water industry.
Today's heroes are wetlands. CCWA uses constructed treatment wetlands to help give highly treated wastewater an additional level of treatment in a natural and cost-effective way. CCWA utilizes two wetlands that I've learned about so far, this article will be about the E.L. Huie CTW. Big shout out to Joey and Mark; I came to the CTW my first month with the Water Authority and they gave me a great tour of the land and explained each part of the process to me.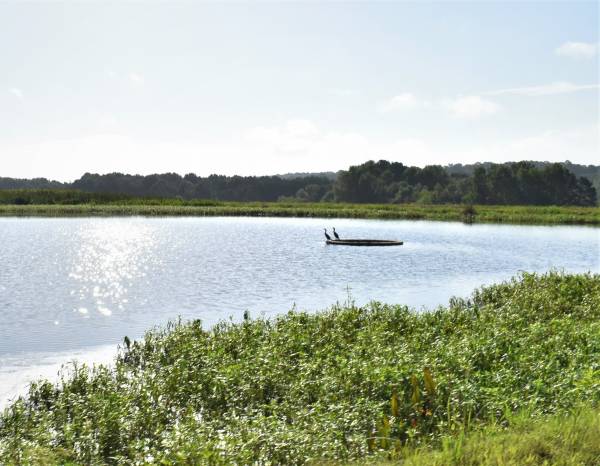 The E.L. Huie Jr. Constructed Treatment Wetlands sit on about 500 acres of land between Freeman Road and Noah's Ark Road, which is shocking because I've been in Clayton County for many years and never knew we had resources this big. The E.L. Huie CTW were named after a former general manager and board member, Ed Huie, who lived here in our community until he passed away. He was highly respected and made a lot of lasting contributions to Clayton County. When he first came to the water authority in 1960 CCWA only had 8 employees and still E.L Huie helped the Water Authority grow into this vast corporation that now serves 82,000 customer accounts.
As great as he was his biggest flaw was graduating from Jonesboro High School in 1936, sadly he wasn't aware the world's best Communications intern would be a graduate of Mount Zion High School. Go Bulldogs!
Roughly 12-15 years ago CCWA decided to turn this land into treatment wetlands because the old way of spray irrigation was expensive and required a lot of maintenance. Once again wetlands provide a natural way of cleaning the water while being way more cost effective. It was interesting to walk around and learn about how the plants in the wetland cells soak up nutrients to help clean it before it reaches a CCWA reservoir and later a water production plant. The way water moves through the treatment wetlands was the most interesting part to me, I knew for sure some type of machinery was used to move the water along. Well, I was wrong, the water moves with the help of gravity and flows throughout the wetlands getting cleaned from all the plant life on the land.
Once it reaches the end the cleaner water goes into our reservoirs Blalock and Shamrock, which is when the water production plant will come in. That's a story for another article!