Dr. John Chafin
Board Member
Dr. John Chafin is no stranger to the people of Clayton County. He has served his community as a business owner, elected representative and as a member of the Clayton County Water Authority's (CCWA) Board of Directors since 2004. Chafin served two years as Vice Chairman from 2010 – 2012 and was elected by the board to serve as Chairman from February 2015 until January 2020.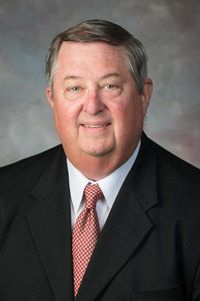 Chafin was born in McDonough and moved to Clayton County in 1974 to work for Christian Brother's Pharmacy. Since then, he has become a fixture in the Clayton County Community, eventually purchasing the pharmacy from Dr. George Christian in 1984, and he is still the owner today.
His appointment to the Authority Board is not the first time Chafin has represented the people of Clayton County. He served as a member of the Forest Park City Council from 1988 – 1990. He was then elected to represent the community in the Georgia House of Representatives from 1990 – 1992. He has also served as head of the Tara District of the Boy Scouts of America and on the Clayton County Hospital Authority.
"I have said for a long time that the most valuable resource in Clayton County is its people," says Chafin. "It is with that understanding that I accepted this appointment. There can be no bigger issue in the health of a community than the safety and security of the water supply. I look forward to serving this community as a steward of that water."
Professionally, Chafin is a member of the International Academy of Compounding Pharmacists, the Professional Compounding Centers of America, and the Georgia Pharmacy Association. He was honored as the 2003 Georgia Pharmacist of the Year by the Georgia Partnership for Caring Foundation.