Senior Lab Analyst Jay Patel Receives WEF Analyst Excellence Award at Fall Conference
Morrow, GA  – – CCWA's Senior Laboratory Analyst Jay Patel earned the Water Environment Federation (WEF) Analyst Excellence Award during the Georgia Association of Water Professionals' (GAWP) recent Fall Conference held in Athens.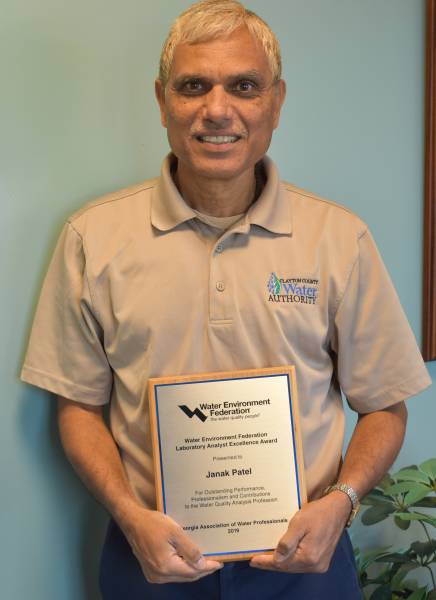 This award recognizes individuals for outstanding performance, professionalism, and contributions to the water quality analysis profession.
Patel works in CCWA's Central Wastewater Laboratory housed in the W.B. Casey Water Resource Recovery Facility in Jonesboro. He oversees the Quality Assurance/Quality Control and compliance analysis for all three water reclamation facilities and Natural Treatment Systems.
"These awards (including the two Platinum Awards earned by CCWA Distribution & Conveyance staff) reflect the commitment of our staff to provide quality services to our community," adds CCWA General Manager H. Bernard Franks.  "They are an integral part of what makes CCWA an industry-leading authority."
GAWP is the State's premier professional association for water, wastewater, stormwater and related issues. GAWP was founded in 1932 and started the first license program for water professionals in Georgia.
# # #