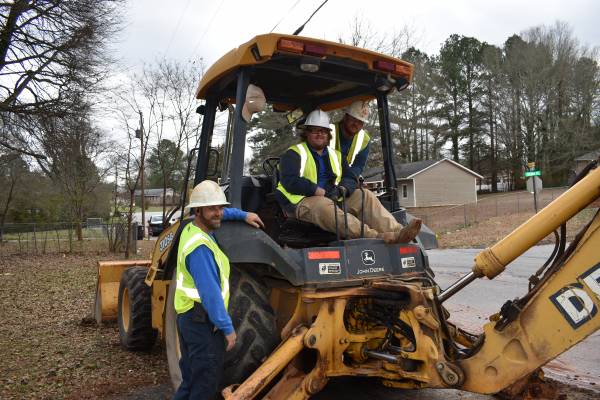 Behind the Tap Series: Distribution Maintenance System Repair Crew
Meet one of CCWA's Distribution Maintenance System Repair Crews made up of Crew Leader Lee Dixon, Equipment Operator John Chafin and Utility Service Mechanics Josh Logan and Jerome Wright. This crew's job is to repair watermains, water service lines, larger meters and to assist other repair crews as needed. Repairs range from small service line leaks to large water main repairs, fire hydrant repairs/replacements and water system valve repairs/replacements.
They work in extreme heat and bitter cold. Their regular work conditions include lots of Georgia red clay, water and whatever the season brings. If an emergency repair has to be made, weekends and holidays take a back seat. Like a lot of water professionals, they are most comfortable working behind the scenes. However, the work they do is critical to ensuring our customers have reliable, safe drinking water. They take their commitment to delivering quality water and quality service seriously.
Dixon's crew is one of two crews that are responsible for more than 1,378.6 miles (7,279,183 feet) of water mains and water service lines throughout Clayton County, serving 87,029 customer connections. In 2019, the two repair crews completed 595 jobs.
They work hard to make as many repairs as possible each day while doing their best to repair the system with minimal di sruption of service to   our customers. There is no such thing as a regular day. No matter how much they plan and schedule, every repair can bring a new challenge.
Their biggest challenges include equipment or materials not working properly, getting called off a job for an emergency repair of a large leak and of course, time.
They like getting to learn new things about the water system and different repair methods. They also like the hands-on aspect of their job and that they don't stay in the same place long, constantly moving throughout the county.
Crews like this are critical to CCWA's operations and the water industry. And no matter the weather or time of day, if a repair is needed, they will get it done. #waterprofessional