CCWA Behind the Tap Spotlight – Water Production Office Assistant Cary Santoyo
Meet Water Production Administrative Assistant Cary Santoyo. Cary wears many hats, as she assists the Department Director Coty McDaniel with a multitude of tasks. Water Production includes CCWA's three water treatment plants, water quality lab, recreation areas, community use buildings and the Melvin Newman Wetlands Center. Cary processes time entry, prepares and processes purchase orders, inputs monthly levels of service statistics, prepares weekly and monthly reports, and prepares critical certification/ license renewal documentation for plant & lab staff.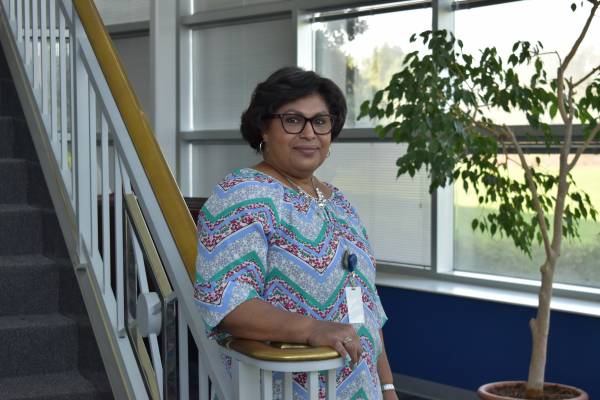 She responds to inquiries about plant tours, recreation areas and the wetlands center. Cary is also the person potential renters work with to rent CCWA's Shamrock/Blalock and J.W. Smith Community Use Buildings. The latter makes up a large part of her job. She manages the reservation requests coming through CCWA's website, phone calls, and online event reservation services. She processes rental payments, refunds, and finalizes paperwork for both facilities' in person and online. She also keeps rental information up to date on those services' websites and ensures information on CCWA's website remains current.
What she likes most about her job is the interaction with people and the Water Production staff in general. "We have an awesome group of people that make it enjoyable to come to work every day. It is a small group that does a lot and makes a difference, from the operators, lab analysts and wetlands staff, to the recreation staff. They represent CCWA's excellence, in water quality, service and staff. "
Timeliness and accuracy are critical in her role supporting the department. "Making sure our monthly reports are sent on a timely manner. Ensuring that those reports are accurate for EPA/EPD and reporting guidelines." Other challenges include the bizarre requests from renters. "People can come up with some really off the wall requests.  When you deal with both administrative duties and the public, you must always put things in perspective – be proactive, think positive, and wear many hats. "
Her job requires a lot of organization, clerical skills and analytical thinking, A lot of the processes that previously were done by paper are now online, or electronic via email. "I always look for better, more efficient ways to do things," she adds. "Being an admin requires you not only do one thing; you do many as you continually streamline processes."   #waterprofessiona