Meet Senior Conservationist, Danielle Bunch. Danielle oversees day to day operations at our Newman Wetlands Center, which celebrates its 25th Anniversary this year! The Newman Wetlands Center features a combination of nature trails, picnic area and learning center. It is her responsibility to maintain a safe, inclusive learning environment where the public as well as various groups can come to learn about wetlands.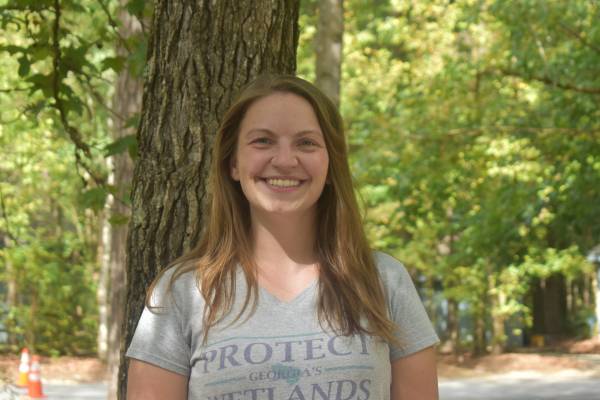 A typical day for Danielle is spent developing and/or implementing programs for students in our local and neighboring school systems, homeschool groups, and community members. Programs can include anything from guided tours and conservation focused discussions to turtle catch and release programs. For school groups, Neman Wetlands Center staff also provides Georgia Standards of Excellence based curriculum such as our "Wetlands & the Cycle of Water" and "Leaf Pack Exploration" programs. Each program provides Danielle the opportunity to interact with guests, answering questions and providing information about the facility, local habitats, and wildlife.
In addition to community education, she works with CCWA Recreation and Natural Treatment System staff to maintain the restored wetland area and native plant garden. This includes maintaining the boardwalk, removing invasive plant species from the wetlands, and monitoring the wildlife inhabiting the wetlands such as beavers, racoons, various species of birds and more! A lover of nature, Danielle says being outdoors is one of her favorite parts of her job. "I love being able to help people connect to the natural world," she adds.
Danielle also plans one of our largest signature events, the Wetlands and Watershed Festival. This event, held annually the first Saturday in October, often features several environment and wildlife related exhibits, nature crafts, scavenger hunts and more. Due to COVID-19, Danielle had to rethink the structure of the 2020 Wetlands & Watershed Festival. The solution was to provide a combination of in person and virtual programming all week long! If you missed it, there's still a chance for you to enjoy. Recordings of several of the events can be found on the Newman Wetlands Center Facebook page.
If you're interested in learning more about the amazing programs offered by our Newman Wetlands Center, visit our website at www.ccwa.us/guided-programs.