CCWA Behind the Tap Spotlight – Meter Services Account Services Dispatcher Phil Danford
Meet Meter Services Account Services Dispatcher Phil Danford. He works as a liaison between Meter Services and Customer Service to resolve issues with customer service orders, including move ins, move outs, disconnects, and reconnects. He provides support to the meter technicians and the account service representatives when they have trouble with an order. He also monitors workloads to ensure all customers are serviced before the end of the day.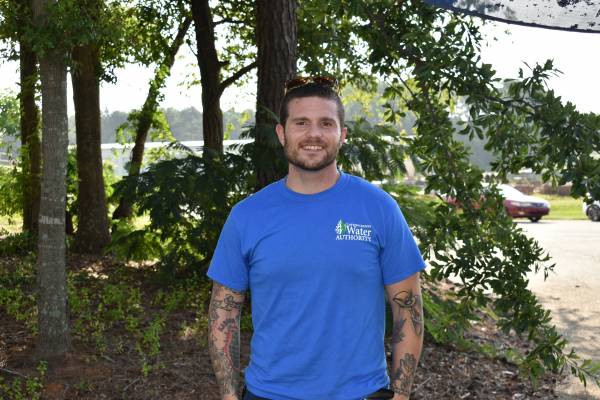 Phil runs several reports on order totals, fees assessed, and fees written off, overdue commercial accounts, outbound dialing campaign (to remind customers they are scheduled for disconnect), loss prevention payments and actions. He receives calls from field techs when they need assistance with account information, meter location, service history, etc. Phil also helps customer service with account inquiries and order details. Phil's workday begins at 6 a.m. with assessing the Meter Service orders for the day and disseminating the work to the team. The team consists of 11 account service reps, one lead and their supervisor. Prior to COVID-19, the team averaged 50 move ins, 50 move outs, 20 high bill rereads, 80-170 reconnects and 150 disconnects a day.
Phil also runs CCWA' Loss Prevention Team. This team was created in 2013 to develop a policy and procedure for customers who tamper with their water meter. This includes breaking locks when their meter is turned off.  When Meter Services disconnects customers for lack of payment, they go back out several days later to check if the water is still off and locked, review their payments, and determine the account status. If someone has illegally accessed the meter, staff has progressive steps to lock down, remove the meter, apply fees, document findings, and try to curb water theft.
CCWA is rolling out a new customer information system September 1. This will bring automation to a lot of Meter Services' processes and eliminate redundancies. Routing and mapping will be automated, staff will have greater control over their work, they will be able to upload documents and photos directly from their phones or tablets and work can quickly be assigned to another technician. Plus, customers will be able to schedule a 2-hour appointment window to have their service turned on. According to Phil, the new mobile workforce management with the system will allow the team to work more efficiently and effectively.
When asked what he likes most about his job, he says, "I like that it's fast paced, requires a lot of critical thinking and it's new and different every day. No two days are the same, so you have to stay on your toes!"
His biggest challenge is one that we can all relate to. "Multitasking! I have to stay focused on field work and receiving calls from different departments and our field techs, working on one problem and then two more issues pop up while I'm in the middle of that. But that's what keeps the job interesting," he added.
"I'm proud of our team. The amount we're able to accomplish and the consistent quality of our work always blows me away," he added. Outside of his usual job duties, Phil serves as a CCWA Ambassador where he is active on the career day circuit with the Clayton County Public Schools. #waterprofessional