CCWA Behind the Tap Spotlight – 
Environmental Compliance Manager Jennifer Brandon
Meet Water Reclamation Environmental Compliance Manager Jennifer Brandon. She supervises the Water Reclamation Central Laboratory and administers CCWA's Industrial Pretreatment and Fat's Oils and Grease Program. She is responsible for ensuring permit and regulatory compliance and reporting for our three water reclamation plants/labs, sanitary sewer spills, biosolids and industries according to U.S. EPA/ GA EPD guidelines.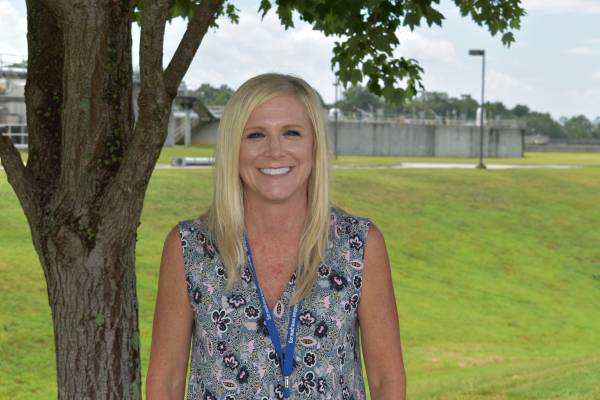 Jennifer is also responsible for the Annual Industrial Pretreatment Report, EPD Stormwater Report and EPA/EPD Biosolids Report. She inspects, monitors and takes enforcement action against violating industries and commercial businesses and works in coordination with Clayton County Environmental Health, the Metro North Georgia Water Planning District, EPA and EPD to ensure that federal and state regulations are met.
Jennifer says there is never a dull moment in Environmental Compliance, juggling between the Industrial Pretreatment and Grease Programs, and the Water Reclamation Central Laboratory.  "Staying up to date with changing federal and state regulations, along with new National Pollutant Discharge Elimination System (NPDES) permit requirements always provide a good challenge."
Another challenging aspect of her job is ensuring that reporting deadlines are met as required by EPA and EPD.  Meeting these important deadlines is accomplished by ensuring that sampling, analyzing, and data collection are streamlined to be as efficient as possible. Also, navigating the many projects within the Water Reclamation Department, including the start-up of the new W.B. Casey Polishing Facility, creates new challenges by adding more sampling and analysis to meet new NPDES permit requirements. Rules and regulations relating to wastewater, biosolids, FOG, industrial pretreatment and the laboratory are always evolving to ensure that water quality standards are met.
"One of the most rewarding parts of my job is having the ability to inspect CCWA's permitted industries, as required by EPD." Clorox, Sherwin Williams, TotoUSA and Fresh Express are just a few of Clayton County's permitted industries. She enjoys seeing how their manufacturing processes work and the wastewater pretreatment systems are used to reduce the amount of pollutants entering the sanitary sewer.  These industries are regulated according to requirements found in the CCWA Sewer Use Ordinance, which is the legal framework used to protect CCWA's sanitary sewer, conveyance crews, plant operators, water reclamation facilities and watershed quality.
She also enjoys assisting business owners in opening restaurants in the community by helping them to determine the size and type of grease interceptor needed.  "It is rewarding to educate business owners and the community on ways to keep fat's oils and grease (FOG) from entering the sewer, which can lead to grease impacted sewer lines resulting in sanitary sewer overflows, resulting in additional costs and efforts by CCWA personnel," she added.
Jennifer is highly respected by her peers. She has received the Water Environment Federation Analyst Excellence Award. She was inducted into the Golden Manhole Society for her significant contributions to the field of wastewater collection systems.  Jennifer and her lab team were awarded the Georgia Association of Water Professionals Laboratory Quality Assurance at a Municipal Wastewater Laboratory Award Serving Greater than 20 Million Gallons Per Day for their work in the W.B. Casey Water Resource Recovery Facility Wastewater Lab. Her team has also received the Georgia F.O.G. Alliance Program of the Year Award.
Jennifer also serves as a CCWA Ambassador. She participates in Clayton County Public Schools career day events, educates students during the Southern Children's Water Festival and is a member of CCWA's FOG Outreach Team.
"Working for CCWA for the past 20 years has allowed me the opportunity to work with some great people, not only in Environmental Compliance and Water Reclamation, but throughout the many departments within CCWA.  Every day provides an opportunity for growth, the possibility of learning new things, the ability to collaborate with peers, along with the chance to help others, and for these things, I am truly grateful." #waterprofessional