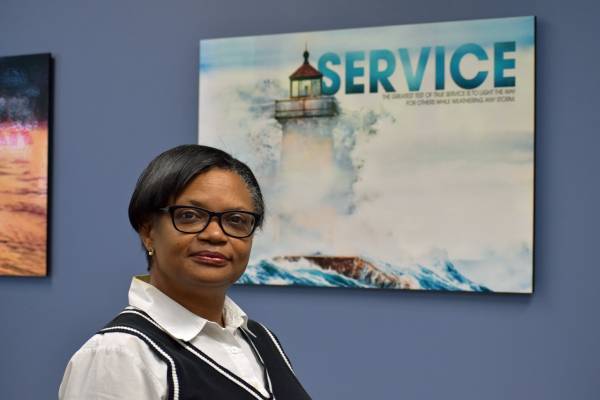 Behind the Tap Series: Call Center Supervisor Diane Ford
Meet Call Center Supervisor Diane Ford. Diane supervises the dynamic world of the Clayton County Water Authority's (CCWA) Call Center. Customers call in for a multitude of things, including questions about their account, drainage issues, leaks, sewer spills, directions to facilities, payment arrangements, starting new service and stopping service. Diane supervises one lead agent, 11 full-time agents and two part-time agents who answer on average 17,500 calls each month. During the month of April when most things were shut down, our Call Center agents were still handling an average of 550 calls per day.
Customer Service is a challenging business. Throw in a pandemic and you've got to think outside the box. Like, figuring out how to maintain business operations for your customers while living through a shelter in place order that closes offices to the public. While Diane's team is used to change, they've had to utilize staff differently to handle all work processes and still provide quality service. "Technology has been a life saver….all of our agents are now working via laptop from home," she adds.
According to Diane, it is a great job which offers a unique opportunity to help others. "There's a quote, I believe by Theodore Roosevelt, which says, 'Nobody Cares How Much You Know Until They Know How Much You Care'." She sees her role as empowering and supporting her team to provide quality service to our Clayton County residents and hopefully, exceeding their expectations.
What she likes about her job is that it requires sharing ideas and working with others to obtain a common goal. "I love working with people," she adds. However, she says it can be a challenge to find people who share her passion "it's not just a job. Sometimes, it's challenging to express the importance of what we do and why."
Diane has lived through tremendous growth and changes in the past 18 years as Customer Service expanded what it offers customers and a focus was put on providing better service. When she started at CCWA, there wasn't a Call Center. In 2005, a small center was opened that over time has grown to its current size as customer expectations continue to change.
Diane is retiring this month. While we are sad to see her go, we are thankful for her dedication to CCWA and our Customer Service team. When asked what she will miss the most, she says, "I will miss the friendships and great working relationships I've established with my co-workers and how CCWA has made me feel appreciated more than my other jobs.  However, I look forward to spending time with my grandchildren and perhaps taking some 'exotic' vacations." We want to thank Diane for her service to CCWA and wish her a healthy, happy retirement! #waterprofessional