Behind the Tap Spotlight: Warehouse Supervisor Derek Cofield
Meet Warehouse Supervisor Derek Cofield. Derek oversees the daily operations of CCWA's Warehouse managing a staff of four and a $1.9 million inventory. This includes procuring all inventory parts, materials and supplies, including fuel for our fleet of 210 vehicles and equipment. Derek also oversees centralized receiving and shipping of all inventory items with an emphasis on best business practices, the sale of scrap and recycled materials and the salvage of inventory items that are in good condition.
It is important to get the best price possible when purchasing inventory items, so Derek is responsible for reviewing requisitions and price quotes. He manages reconciliation of purchase orders with invoices to ensure accurate billing and receipt of materials. He also reviews completed jobs and projects to ensure accuracy of materials charged to jobs and work orders while providing monthly inventory/financial reports to CCWA's management team.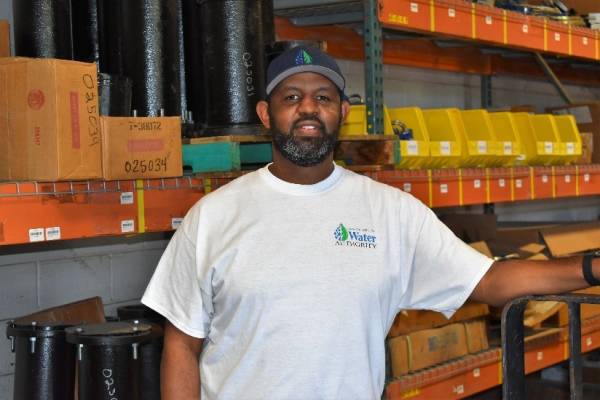 It's not uncommon to see him on the forklift loading/unloading trucks, making deliveries and helping customers. "I'm part of a team, and I just look at it as doing whatever is necessary to get the job done," he adds.
Derek likes getting to interact with everyone in the company from various departments as well as vendors and customers. "It gives me a chance to learn a little bit about what everyone else in the company does on a daily basis," he says. "You get to see firsthand how all of the departments work together to provide quality water for our customers."
One of the biggest challenges with running a warehouse is making sure you have the right materials in stock at the right time. "In our industry we deal with a lot of emergency repairs. If someone hits a fire hydrant or if we experience extreme temperatures in the middle of the night, that can cause a waterline to burst." Derek adds. "We have to make sure we have the items on hand to make those unpredictable repairs. So that why it's very important that we stay on top of ordering inventory."
Derek has worked in the Warehouse for 10 years, serving as Lead for seven years before being promoted to supervisor shortly before the pandemic hit last year. The pandemic brought new challenges like price increases on many items and extended lead-times getting products delivered timely. "At one point some vendors couldn't even give us a lead-time on how soon we could expect to receive items. So, it was challenging to make sure we kept the shelves stocked with inventory. A year later we are still experiencing some delays with lead-times, but it is a lot better than it was last year," he adds.
Derek is constantly reviewing and adjusting reorder points to ensure items get ordered soon CCWA employees had the personal protective equipment (PPE) items they needed to still come to work and complete their daily tasks. "Whether an employee is working in the office at a desk or in the field making a repair to a water line, I wanted to make sure that employee had the items needed for their safety and the safety of others. Even with nationwide shortages on PPE, we were able make sure we never ran out of any PPE items, so I see that as a huge accomplishment for our department."
Derek is thankful for his Warehouse team that feels like family. "I look forward to seeing my team grow within the company for years to come." #waterprofessional