Meet Stormwater Compliance Manager Beth Parmer. Beth leads a team of four inspectors to ensure CCWA, Clayton County Government and its six cities are in compliance with the National Pollutant Discharge Elimination Systems Municipal Separate Storm Sewer System (MS4) permit.  This permit is regulated by the Georgia Environmental Protection Division (GA EPD). Permit requirements include stormwater structure inventorying, mapping, inspecting, maintaining, etc., inspecting businesses that could possibly emit pollutants via the storm drainage system, ensuring recordable spills to the storm system are properly documented and reported, ensuring construction activities are not polluting to storm drains and state waters and public education/involvement with our community.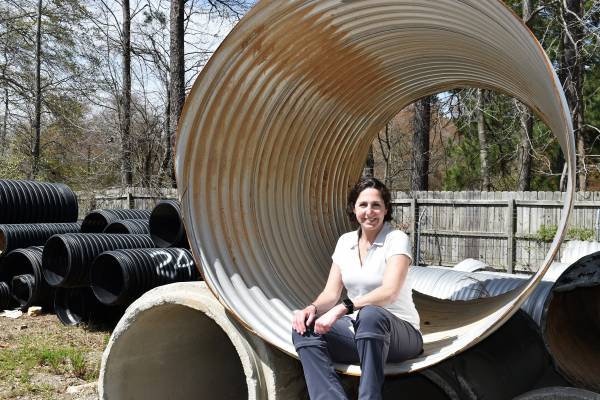 She coordinates with CCWA staff, consultants, city and county personnel, the state, and others to ensure that each element of our partners' MS4 permit requirements are satisfied annually during the reporting period of May 1 – April 30. There are seven reports that are reviewed in detail by GA EPD. If they have any questions, Beth is who they contact for more information.
Beth is also a certified floodplain manager, so she is CCWA's contact when the public and developers have questions regarding the floodplain in Clayton County. She reviews plans that come in for new development or re-development as it pertains to the floodplain management ordinance.
She ensures that the residents of our communities in the Community Rating System (CRS) Program (currently, the cities of Forest Park, Lake City and Morrow) are getting the best discount possible on their flood insurance premiums. She is working to get our other communities that have floodplain (unincorporated Clayton County and City of Riverdale) enrolled into the CRS Program so their residents can become eligible for discounts on their flood insurance premiums.
The biggest challenge she faces is coordinating with the seven different partners to get all the data that is needed to submit with their MS4 Annual Report by the deadline each year. Her favorite requirement of the MS4 Permit is the public involvement events that she participates in with Stormwater and the rest of the CCWA team. These include the Rivers Alive Stream Clean Up, Household Hazardous Waste Collection Day, and the Wetlands & Watershed Festival.  She will be volunteering at this Saturday' Collection Day event, along with most of Stormwater staff.
"Since the pandemic hit, I have only been able to help organize and participate in one Rivers Alive event, as this past year's event had to be cancelled due to COVID-19."  The Household Hazardous Waste Collection Days are having to be held differently due to Covid protocols.  The one Wetlands and Watershed Festival that our Stormwater Compliance Team participated in had a small attendance due to the pandemic.  "To say that I will be overjoyed when the pandemic protocols can safely be relaxed and we can get these events going back to normal would be an understatement," she adds.
What Beth loves most about her job is being part of the Stormwater Department. "If there is ever anything that I need, I do not have to look far. Each member of the department has a different set of expertise and/or skillset that they are always willing to share," she says.
Beth had only worked for CCWA 7-8 months before the pandemic hit. She has now worked during the pandemic longer at CCWA than not.  "What I miss most about pre-pandemic life at CCWA has got to be the in-person meetings and gatherings," she says. "I'm a people-person, not a virtual-person, so I will be extremely happy when we can get back to meeting in person, going to classes or conferences in person, and, most importantly, having our Stormwater Department cookouts again." #waterprofessional