Behind the Tap Spotlight: Spatial Assets Analysts Stacy Doerr and Jeremy Manny
Meet Spatial Assists Analysts Stacy Doerr and Jeremy Manny. They work in CCWA's Engineering Department maintaining a digital representation of our water, sewer and stormwater network. They also maintain our service requests, work orders, and inspections for our assets within our work management system, Cityworks.
For years, most people thought of their group as electronic map makers. While that is part of their job, they have moved into more data management, reporting, integrations, and other functions.  "We may go months without so much as even opening up our pure mapping software (ArcGIS)," says Stacy.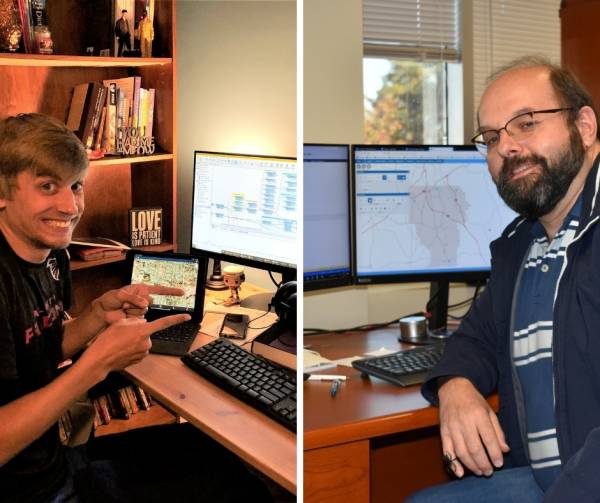 Their job duties vary greatly. No two days are the same because they are involved in so many things. According to Stacy, on any given day, they may be writing reports from Cityworks or GIS data, helping a Cityworks or GIS user, creating a custom inspection or other Cityworks configuration, creating a new geographic dataset, integrating to another application and converting data. Plus, helping develop a process in Cityworks to support a CCWA system process changes, creating/implementing Web applications, supporting Level of Service metrics using Business Intelligence software, or countless other responsibilities.
Problem solving is a big part of what they do.  "We get to use problem solving daily and no two problems are the same. We are "perfectionists" (in a way) where we will go down several paths to get to an end goal and sometimes that goal ends up being altered because we are constantly thinking of ways to better improve processes," Jeremy adds.
They both enjoy the variety and the way technology changes their jobs. "It is always interesting and boring days are virtually non-existent," Stacy says. "It is also rewarding to be able to provide tools to help others do their jobs more efficiently and exciting when they see the benefit in those tools."
For example, they created a web map tool for staff to use when we need to send out a robocall to let customers know about work being done in their area that disrupts water service. Using this tool, operations staff can highlight the area and get a list of the customer accounts affected. Then, Customer Accounts staff sets up and sends out the robocall. This is just one small way they help others do their jobs more efficiently which in turn benefits customers.
What are their challenges? Getting people to see the value in their data and that accurate data gives a better glimpse of the real system and helps in planning, budgeting and process improvement.
Jeremy first worked for CCWA in this group as a college intern.  "Coming out of college, the idea that Spatial Assets would be where it is today would never have been a thought.  It has become less of map making to more of the database/data management. Every bit of the software we use utilizes those databases and makes it possible to produce what most see today at the Water Authority," he says.  "There is a lot of behind the scenes work that most do not see, but it's those scenes that make the job interesting and a constant learning process.  As our email signatures point out, "GIS – It's not a map… It's a system."
Not a map, indeed! The world of Spatial Assets and GIS seems complex to those of us on the outside. What we do know is that the end results of everything they do helps CCWA provide quality services to our customers. #waterprofessionals