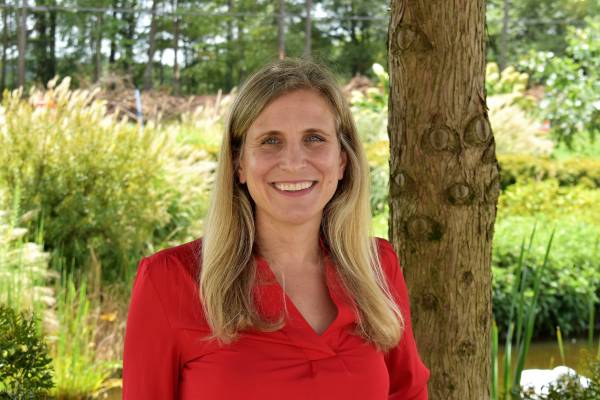 Behind the Tap Spotlight: Program Manager Lauren Chamblin
Meet Program Manager Lauren Chamblin. Lauren works in CCWA's Program Management/Engineering (PME) Department where she is responsible for overseeing the on-demand contracts with engineering firms. When CCWA staff have a need that requires engineering, PME Department staff may be able to help, or we may need to use our consultant engineers.
"I help find the firm that is the right fit for the job, help put together a good scope of work for project, and then continue to be a part of the project from beginning to end," Lauren says.
These projects could be things such as designing and constructing a new high service pump station, evaluating the capacity of the processes at a water reclamation facility, or updating our stormwater development guidelines. Lauren also supports strategic planning and is involved in developing CCWA's Strategic Master Plan and Strategic Asset Management Plan, which identify projects needed over the next 10 years to continue to deliver high quality services to our customers.
Lauren likes that her job touches so many other departments, she has the opportunity to collaborate with so many different people and how much she learns each day.
Lauren earned her Master of Science degree in Environmental Science and Engineering and worked as a consultant for 12 ½ years before coming to CCWA a couple of years ago. When asked about comparing the two sides, she says she likes being on the utility side to see firsthand how some of the projects she had worked on previously have had an impact on all levels of staff. "And working on the utility side, I get to be involved in more projects and have much more diversity in the types of projects I work on."
The biggest challenge Lauren faces is having 'a lot of projects happening at once and a lot of things to juggle to stay on top of them all.'
The pandemic has changed her work life. "Before the pandemic, I attended a lot of in-person meetings and site visits.  Now I'm quite the zoom professional. The pandemic has proven how much we can get done virtually but it has also shown me the value in real-life collaboration, hallway conversations, and having eyes on the projects you are working on." #waterprofessional