Behind the Tap Series:
Water Production Class 1 Plant Operator Rocky Autrey
Meet CCWA Water Production Class 1 Plant Operator Rocky Autrey. Rocky works at our J.W. Smith Water Production Plant. This plant can produce up to 12 million gallons per day of potable water. Potable (which rhymes with floatable) means it is safe to drink.
Rocky's day consists of ensuring all equipment is operating properly before bringing raw water into the plant from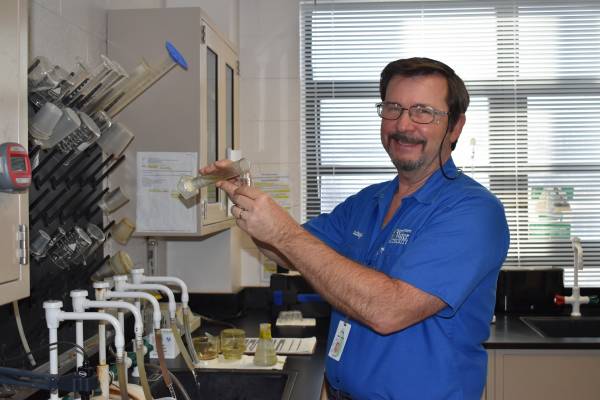 the J.W. Smith Reservoir and starting the production process. He then regularly tests and monitors the water in each part of the process to ensure that all standards and requirements are met before the water is pumped into the distribution system for customers. He also monitors all equipment to make sure it is operating properly and feeds chemicals as needed while performing cleaning and calibrating of equipment.
Rocky has worked for CCWA for more than 20 years. What he likes most about his job is the daily challenges it provides. "There is always something going on that tests your abilities to observe and react to changing conditions in the plant – water quality, temperature/weather changes, or equipment failures are just some of the issues we deal with on a daily basis," he adds.
Any changes in the weather, temperature changes, rain event and high winds all affect water quality. Plant operators must be able to recognize the changes and take appropriate steps in the production process to address each change. "If you have equipment failure, you must recognize the failure and transfer to back up equipment. Or if necessary, shut down the plant until maintenance staff can address the issue."
Rocky says he has one of the most interesting jobs at CCWA because it continually presents you with different challenges and helps you grow your knowledge of the plant and operations. He enjoys sharing his knowledge and experiences with employees who volunteer at the plant while working towards becoming certified operators themselves. "I am very pleased to have a number of my trainees currently working in all of our water plants," he adds.
We are thankful for operators like Rocky who are dedicated to ensuring our customers have safe, clean drinking water – even on holidays like today. #waterprofessional