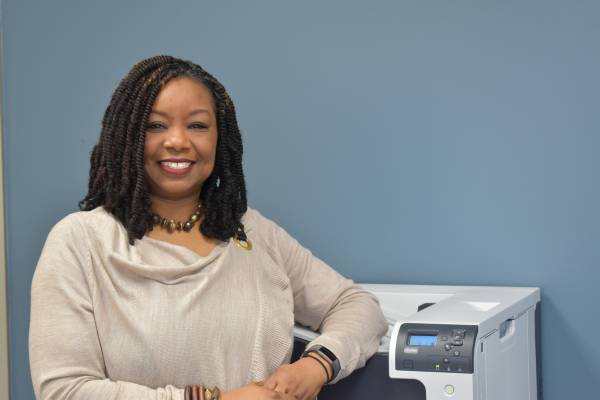 Behind the Tap Series: Purchasing Manager Marcia Jones
Did you know March is National Procurement Month? March is right around the corner, and we're starting it off by spotlighting our Purchasing Team.
Meet CCWA's new Purchasing Manager, Marcia Jones. She began working for CCWA in the fall of 2019 bringing with her years of experience from the financial institution and public procurement sector.
Marcia oversees the Purchasing and Warehouse Inventory areas. The purchasing staff consist of two Procurement and Contracts Specialists who process and maintain bids and contracts $50,000 and greater. Their responsibilities can range from purchasing a generator for a plant to assisting in finding a wellness program for employees.
Public procurement/purchasing is a very serious business. The purchasing staff must adhere to all governing laws and ensure compliance with public procurement policies and procedures. It is the fiduciary responsibility of the purchasing department to be good stewards over CCWA's finances. They also provide outstanding customer service to our internal and external customers.
When CCWA purchases a commodity (specific goods or services) of at least $50,000, several steps are taken prior to the actual purchase.  If there is no substantive difference in the product or service, price is the determining factor and they issue a request for bid (RFB). The purchasing staff work with the requesting department to create the request for bid documents detailing specifications and create a bid package. Purchasing sets the procurement schedule, runs the bid announcement in the county's legal organ (Clayton News) and posts the bid documents on the CCWA website and Vendor Registry site. If any potential vendors have questions during this process, purchasing will gather the answers from the department and issue addendums.
The purchasing staff along with the requesting department facilitate Pre-Bid meetings to review the bid instructions, specs and to answer any additional questions prospective bidders may have. On the day the bids are due, they accept bids, publicly open each bid, and verify the bid tabulations.  The requesting department then reviews the information and presents the recommendation to CCWA's Board of Directors for approval. Once a bid has been approved, the purchasing team will follow up with the vendor to get proof of insurance requirements and make sure the contract and all documentation are fully executed.
When CCWA is looking for services of $50,000 or greater, where price is not the most important factor, they issue a request for proposal (RFP). This process takes much longer – anywhere from three to six months – and includes putting together the RFP package, opening proposals, having an evaluation committee individually review and score each proposal and calling references. If presentations are necessary, the Procurement and Contracts Specialists schedule them. Once all of that is complete, the evaluation committee goes over scores and then opens cost to determine a recommendation. The requesting department then presents the recommendation to CCWA's Board of Directors for approval.
The Procurement and Contracts Specialists also ensure that invoices match what was agreed upon in the executed contract or agreement. They also maintain a vendor information database, research vendors for each procurement and prepare CCWA's annual E-verify report.
"Our two Procurements and Contract Specialists do a great job handling all of these behind the scenes tasks," Marcia says. "They are very hands-on, detail-oriented, and ensure we follow all government procedures and laws."
Challenges in Marcia's job include continuing to learn CCWA's policies and looking for ways to streamline existing processes. "I enjoy looking at processes to find the most efficient way to do business," she says.
Compliance has always been part of her work ethics and is a big portion of Marcia's job at CCWA. People in her line of work are often looked at as the enforcers, and she is good with that.
"The ironic thing is that we are the good guys. We are here to help keep CCWA's integrity and reputation intact," she adds. "At the end of the day, people appreciate that. It is all connected."