Behind the Tap Series: NTS Wastewater Plant Operator Daniel Salmons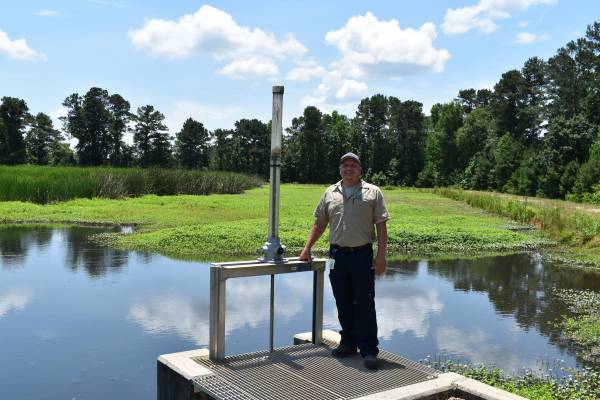 Meet Natural Treatment Systems (NTS) Wastewater Plant Operator Daniel Salmons. When you think of a wastewater plant operator, you probably think of a traditional wastewater treatment plant. Well, Daniel's 'plant' is a little different. He is a Class 1 Wastewater Plant Operator who works at one of the coolest places at CCWA – our constructed treatment wetlands. There are hundreds of acres at the E.L. Huie Jr Constructed Treatment Wetlands and the Panhandle Constructed Treatment Wetlands. These man-made wetlands mimic nature at its best where plants are used to remove any remaining nutrients from highly treated wastewater. They are an active part of CCWA's innovative cycle of water. They also provide habitat for wildlife, waterfowl and migratory birds. They seem a world away from the fast pace of metro Atlanta.
Daniel's job duties as a plant operator include flow data entry and monitoring the flow and sample rates at the Huie Constructed Wetlands and the Huie Holding Ponds using CCWA's Supervisory Control and Data Acquisition (SCADA) system. He also collects Georgia Environmental Protection Division (EPD) permit required samples at both wetlands' sites, performs process control measures and cleans wetlands outlet structures. Plus, he performs preventative maintenance on the wetlands distribution system and makes corrective work orders as needed.
Daniel likes the ever-changing surroundings of his job the most. "Although the wetlands are permanent in their location, the environment is constantly changing with the seasons," he says. "With every change in the seasons comes a new temporary obstacle/hurdle to adjust to and overcome. These include diverse temperature and weather conditions, animals, bees, snakes, spiders and vegetation."
The biggest challenge he faces in his job is weather. "As with many jobs at CCWA, our job does not stop for rain, sleet, snow, nor high or low temperatures. No matter what mother nature is giving us, the show must go on!" he adds.
CCWA's history of innovative land treatment dates back to the early 1970's. At that time, CCWA began using spray irrigation to apply effluent (highly treated wastewater) back to the ground water using miles of sprinkler heads on forested land. Beginning in the early 2000's, much of this land was converted to constructed treatment wetlands and spray irrigation was phased out. Now, the effluent flows by gravity through man-made wetlands as plants remove any remaining nutrients. This adds a final polishing step in the purification process. The water then flows to our raw water reservoirs where it eventually starts the cycle of water over again. This innovative cycle of water brings industry peers from around the world looking to learn more about CCWA's sustainable water supply.
"We have a diverse scope of work that is always changing," Daniel adds. "It takes a great team to keep NTS and all it encompasses running and flowing, 24/7, and we are blessed to have just that." #waterprofessional