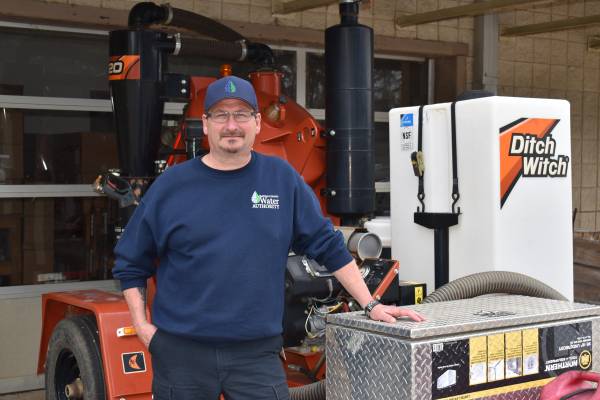 Behind the Tap Series: Meter Services Supervisor David Judson
Meet Meter Services Supervisor David Judson. David supervises six Meter Services Technicians and one Installation Technician. David's team is responsible for reading meters, checking meters that show no usage, maintaining meter boxes, changing out residential backflow devices and verifying new meter installs.
The six technicians read 87,700 water meters each month (that's over 1 million 'meter reads' annually!). When they find a meter that has stopped working, they replace it with a new meter. Last year, they changed out more than 5,600 backflow devices. These devices keep our potable (drinkable) water supply safe by preventing any contaminated water from flowing back into our system if there is a drop in system pressure. The goal is for staff to replace all residential backflow devices every five years. They also verify 1,200 – 1,500 new meter installs each year to confirm the meters are where they are supposed to be. New meters are installed by a CCWA contractor and then inspected by CCWA staff. Most new meters are installed when a subdivision is being built. David's staff verifies the meter by comparing its serial number to the location. (Sometimes, people 'move' meters to a different location illegally.)
David has seen a lot of change in his 14 years in Meter Services. In the past, 12-meter readers walked the entire county reading meters. That all changed in 2012 when CCWA completed a four-year, $10 million upgrade to automated meter reading (AMR) technology. With AMR technology, readings are logged into software as the meter technician drives by the meters. In the truck, a laptop displays a blue dot for each meter location. As the readings are collected, an audible alert sounds as it picks up a reading. If it cannot pick up a reading, a red dot shows up on the screen for that location. If this happens, the technician manually reads the meter. While many utilities hire a contractor to handle such large conversion projects, CCWA decided to do the project in-house. This saved CCWA (and therefore its customers) a lot of money and ensured it was done correctly. David was over the project and his team finished ahead of schedule and within budget. It is an accomplishment he is still proud of today.
Once Meter Services converted to AMR, meter readers became meter services technicians as their responsibilities changed. Their team was also reduced to seven due to efficiency gained with the new technology. Today, four technicians read two cycles each day to complete the 17 billing cycles.  This takes about half of their day. The rest of their day, they are making adjustments and completing reports. High/Low Reports show any meter usage that is out of range for its normal usage. They revisit those properties to check the meters. If the hand is spinning, they reach out to the customer to let them know they may have a leak. This process is currently done using paper. Once CCWA implements its new customer information system later this spring, they will be able to use tablets to check reports and enter information. One technician is dedicated to replacing residential backflow devices and another technician stays on top of large commercial meters that are 1 1/2 inches or larger, turning over any meters that have slowed down or stopped working to CCWA's Large Meter Testing division.
There can be a lot of misconception when it comes to water meters. When asked if there is anything David would like customers to know about his job, he said "We do read meters. It isn't just a drive by. We are also here to help our customers any time they have a leak. We are not plumbers, but we can help them troubleshoot for leaks."
Challenges include weather and the safety of his staff. Weather slows their whole process tremendously but doesn't stop what they do. Regardless of weather conditions, CCWA's meter service technicians are reading meters. Even during inclement weather, his technicians are working to make sure new customers get their water service started. Safety is also important as they are on the road and out in the field every day.  Looking ahead, he says the focus will continue to be more on customer-related issues and, of course, utilizing newer technology.
Despite the challenges that come with the job, David says he couldn't ask for better bosses and his group is like family. "I enjoy people and love dealing with our community, going out to customer's houses to help them – especially our older population."
This week is National Fix A Leak Week. A few years ago, it was David's idea to celebrate the week by having Meter Services staff set up in our two customer service lobbies to talk to customers about the importance of finding and fixing leaks. It has been extremely successful.
"Fix A Leak Week gives us a chance to talk to customers about leaks. We have a toilet with us so we can show them common leaks and how simple most of the repairs are. Toilet leaks are our worst enemy. They are often undetected but can make a customer's water bill spike."
David says customers are so appreciative of having staff there to explain and answer questions. "We've had several customers return to let us know they were able to take the tips we gave them back home and find a leak." This year's Fix A Leak Week will be different due to concerns over the COVID-19/Coronavirus. However, once life returns to normal, David and his staff will spend some time in our lobbies offering tips to customers.  #waterprofessional