Behind the Tap Series:
Lead Laboratory Analyst Janak Patel (aka Jay)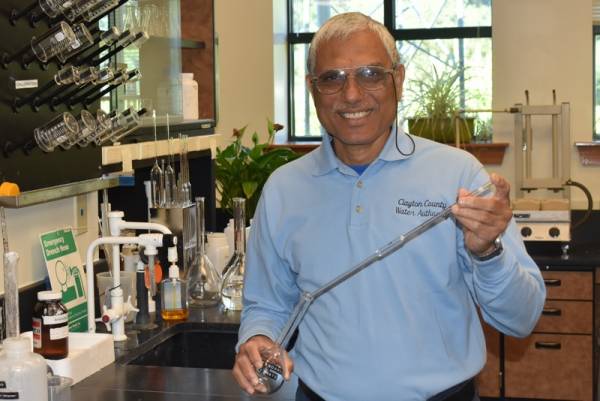 Meet CCWA's Lead Laboratory Analyst Janak Patel (aka Jay). Jay works in our Central Wastewater Laboratory and has been a certified Wastewater Lab Analyst for almost 20 years. He holds a Bachelor of Science Degree in Dairy Technology and worked for Kraft General Foods and Parmalat before moving to the water industry in 2000. After working for the City of Griffin as the Wastewater Laboratory Manager for several years, he joined the CCWA team in 2012. Jay is responsible for quality assurance/quality control (QA/QC) and compliance analysis for all three of CCWA's water reclamation plants and our constructed treatment wetlands.
His passion for the lab is evident in his daily work activities and his commitment to maintaining exceptional QA/QC in the laboratory. His contribution to the laboratory has resulted in CCWA winning the Georgia Association of Water Professionals Laboratory Quality Assurance Award in 2016 and 2018.
Jay is always helpful and enjoys teaching others, where he has been instrumental in training new analysts, summer interns and several plant operators. If you have toured our W.B. Casey Water Resource Recovery Facility, you may have seen Jay during the lab portion of the tour. He also serves as a CCWA Ambassador at numerous career day events and community events.