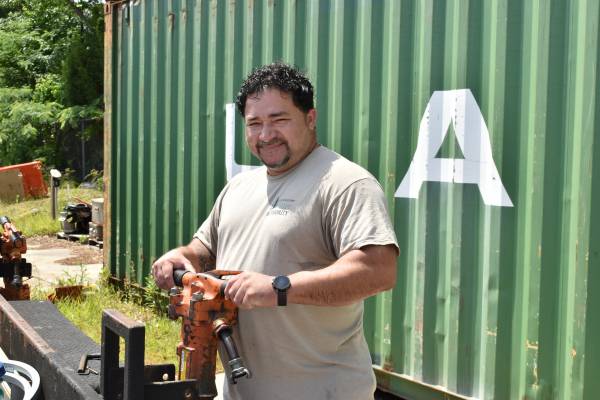 Behind the Tap Series: Distribution & Conveyance Equipment Operator Carlos Bajana
Meet CCWA Distribution & Conveyance Equipment Operator Carlos Bajana. Carlos works on a manhole raising crew in our Conveyance section, which is responsible for maintaining 1,300 miles of sewer conveyance pipe throughout Clayton County. Carlos is responsible for repairing and maintaining manholes, installing new rings and covers, conducting plasters of manholes and root removal, repairing infiltration/inflow issues, and repairing sewer mains and laterals. (A sewer lateral is the pipe that connects your home or business' plumbing to a CCWA sewer main.)  He also raises manholes by adding cone sections or by using the jackhammer to raise using risers. This is necessary in low-lying areas or when a road has been paved over and the manholes are paved over too. Another one of his job duties is locating and raising valves.
What Carlos likes most about his job is that it is different every day. "We conduct several jobs daily as we constantly go to different locations," he said. "For the most part, our jobs are completely different each day making it interesting."
Safety is a huge aspect of Carlo's job and it is the biggest challenge he faces. "We always make sure to watch out for each other's safety," he said. His jobs range from repairing a sewer manhole that was struck by a contractor working on the I-75/Frontage Road project (which got him temporarily stuck in the mud), to locating manholes that were paved over on Flint River Road by a contractor. When manholes have been paved over, the manhole raising crew utilizes CCWA's CCTV camera and a metal detector to find the manholes and then adjust each manhole lid and ring to grade level.  He also works on CCWA projects like grouting a sewer manhole that was used as a sewer bypass when a force main blew out near Hwy 54 and Thomas Road by the Flint River and removing a sewer manhole cone section to replace an air release valve at our Shoal Creek Water Reclamation Facility. 
Talking with Carlos for this spotlight revealed an interesting life story. Carlos immigrated to the U.S. from Ecuador when he was 17. He worked various jobs in New York City for more than a decade and then enlisted in the U.S. Navy in July, 2001.  "I knew I wanted to serve from the time I immigrated here," he said. "I was older by then, but was able to enlist a few years before the cut off age." Little could he have known how life would change a couple of months later on September 11th of that year. He was stationed in Norfolk, VA and assigned to the USS Donald Cook, a missile destroyer. He served 10 years, including four tours of duty in Operation Iraqi Freedom and Operation Enduring Freedom. Following his service, he completed refrigeration school and worked in the HVAC industry for a few years. A chance encounter with a CCWA employee three years ago introduced him to a job opening at CCWA. "I thought, why not?" he added with a smile. The rest is history.  #waterprofessional