Behind the Tap Series: CCWA Utility Locator Brant McKee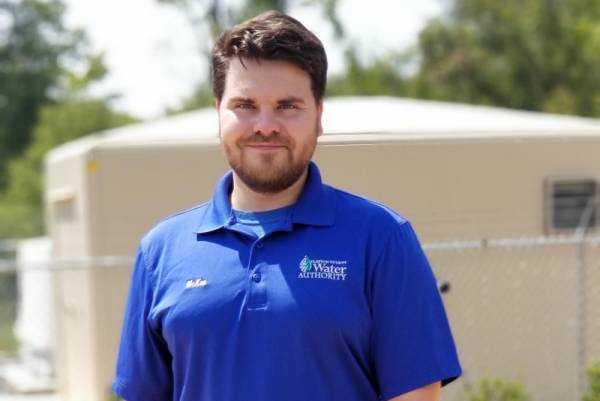 Meet CCWA Utility Locator Brant McKee. Brant locates and marks underground water and sewer lines, water meters and other CCWA assets for safe excavation. He is one of a six-member team in CCWA's Distribution & Conveyance Department responsible for locating underground utilities.
Utility locators like Brant carry a big responsibility as their work keeps others safe while digging around underground utilities. If utilities are not marked accurately and are consequently hit, it is disruptive to area residents and businesses. It also can be deadly to the excavation crew.
Whenever a contractor or individual is planning to excavate, they are required to contact GA811. GA811 then notifies local utilities, who have a 48-hour window to respond and mark their underground lines. Brant, and the other locators, plan their route every morning using software that dispatches tickets from GA811. They plan their routes efficiently, so they are not driving back and forth all over the county. Along with their locates, CCWA Utility Locators also check sewer manholes in the area for sewer backups. This provides another set of eyes on our system.
Brant's work tools include a computer, a locator that produces and transmits a signal onto a utility that is metallic (such as a hydrant or meter box) that the receiver can detect, and a paint wand that holds blue, green or purple paint. Blue is used to mark water lines, green marks sewer lines and purple marks non-potable (reuse) water. You can often tell a locator by the colorful colors across the top of their work boots.
Brant works hard and is efficient at what he does. In the past year, he responded to 13,451 tickets with zero damages. He also inspected 2,225 sewer manholes. He enjoys not being confined to one place and getting to meet and work with different departments at CCWA.
One of his biggest challenges is locating utilities at CCWA treatment plants. Because it is CCWA property, our locators must mark all utilities, including power and gas lines. Sometimes the plans or maps for these sites aren't always readily available. #waterprofessional