CCWA Behind the Tap Spotlight – Electrician Donyel Patton
Meet CCWA Electrician Donyel Patton. Donyel works in our General Services department and is responsible for planning, organizing, and repairing multiple scopes of work for all departments & CCWA goals, plus electrical work. This includes performing different tasks for I.T., Safety & Compliance, Engineering, etc.  He also organizes projects, down to the smallest details, from ordering materials to getting supplies together for electrical projects and repairs. He says going over job details with coworkers involved in the project helps minimize any deviations from the well-thought out work process. He works closely with one electrical technician. Keeping things going in a company as complex and spread out as CCWA keeps them both busy.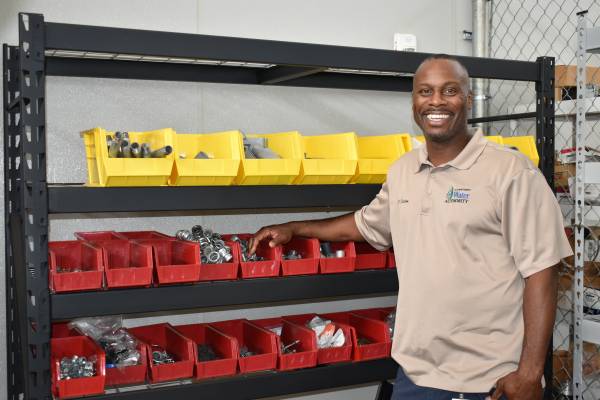 Donyel has worked for CCWA for nine years and been a licensed electrician for seven. He knows the dangers well and takes a systematic, cautious approach to every task and project. In his line of work, it can mean the difference in making it home at the end of the day, or not.  His day does not always go as planned, as sometimes emergency calls about electrical needs directly related to critical productivity shift his focus. Regardless, after the emergency is taken care of, Donyel goes right back to his planned worked. His good-natured attitude helps him manage the ever-changing assignments.
Donyel says he has always enjoyed working in the Electrical field. When asked what he likes most about his job, he says, "Each day we are subject to tackle something different.  Ranging from installing light fixtures, troubleshooting communication & electrical issues to energy conservation upgrades."
A lot of his work is very visible at CCWA, but he often works under the radar. One example of this was the installation of a new conduit and circuit (wire) at CCWA's Clark Howell Tap last year. When Hicks Water Production Plant operators were not able to see the valve operations, Donyel and other CCWA employees determined after troubleshooting that the circuit was shorting. Simply pulling in new wires was not an option due to a crushed conduit underground. They determined a new installation was the best solution. After reinstallation, plant operations were able to view and operate the valves again. He also works with operations staff to replace old lighting throughout the company with LED lighting as part of CCWA's ongoing Energy Conservation Project. This project helps save energy and reduces production costs company wide.
His challenges include staying up to date on industry changes, Electrical Code and applications; and ensuring all electrical work throughout CCWA is up to the National Electrical Code standards. In addition to regular maintenance work, Donyel has been involved in many projects (some unexpected), including:
Fiber optic installations at Shoal Creek Water Reclamation Plant, JW Smith Water Production Plant and Natural Treatment Systems (NTS) Maintenance, CCWA's Company-Wide Security Upgrade Project, remodeling Projects at HQ, Stormwater, Marie Barber Community Use Room, Shamrock & JW Smith Community Use Buildings, Deer Check-In station, gas pump upgrade, Customer Service Call Center & Meter Services Cubicles and the upcoming Round-About Project at Freeman Road and Dixon Industrial Boulevard.
He has also worked CCWA's Tap on the Go at our Rivers Alive Stream Cleanup for several years. Regardless of what the day brings, Donyel takes it in stride, usually with a chuckle and smile on his face. #waterprofessional