Meet CCWA Distribution & Conveyance Crew Leader/Troubleshooter Delbert Williams. Delbert's work day is 7 a.m. – 4 p.m. and he responds to any water- related issues. The most common issues are high or low water pressure, leaks, and water running in the street. Basically, any problem except for sewer and he sometimes responds to those too. "If there's a problem, I am going to be the first sent out," he adds.
When he is dispatched based on a customer contacting CCWA's Call Center, he heads out with basic information. Once he arrives, he verifies the address and meter number and talks to the customer to get their side of what is going on. He then gets down in the meter box, and troubleshoots to determine what is causing the issue. If it is an issue on the CCWA side (between the street and the water meter), and the water line needs to be repaired, he calls in the 48 hour utility locate to GA811 and contacts the repair crew foreman so that crews can prepare for work.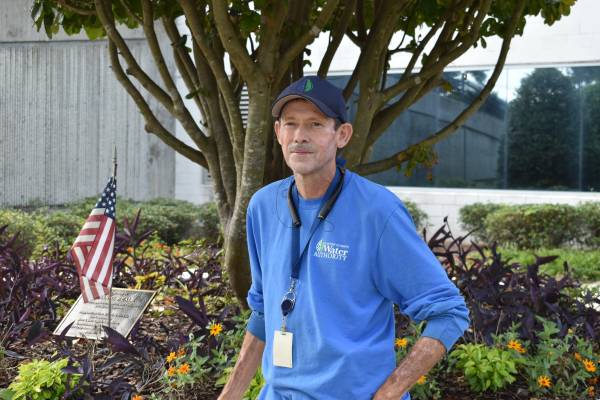 Some days the calls are crazy and non-stop. Other days, they are slow. On the days calls are slower, he helps other crews. Lately, call volume has been up. What he likes most about his job is that there is something different every day and you are constantly learning new things. "It keeps me busy with my hands, and I like working with my hands," he adds. He also loves working outside, even though he hates it in extreme weather.
Challenges in his job include: weather, animals inside meter boxes, whatever the problem at hand is and customers not being happy if the problem is on their side (between the meter and their home or business). He is used to customers being upset when he explains that it is their responsibility.  He would like customers to know that he is there to help and do all he can to get the problem fixed as quickly as possible. There are times that the issue is on the customer's side and it is their responsibility to repair. "We are not trying to get out of anything, but if it isn't on our side of the meter, or our issue, then it isn't our responsibility to repair."
He says the summer heat is hard, but winter is the worst because of the change in temperatures. Changing temperatures are common here in Georgia where it can mild one week, take a quick dive in temps the next and then warm back up quickly. This causes the ground to expand and contract and leads to water line breaks. Another new challenge is that some developers are now installing smaller water lines from the meter to the house. This has a direct impact on the water pressure inside the house. "Water pressure may still be the same from the meter, but due to the smaller size water line, the water flow is going to be less inside." Unfortunately, this isn't something CCWA can fix.  A final challenge is ever-changing technology.
Delbert has worked in Water Distribution maintenance his entire 24 year career at CCWA, including working as an equipment operator on a leak crew, on a paving crew, and working on valve boxes. He is respected for his knowledge and directness.
Delbert helps train new troubleshooters. He says it is important they understand how water flows and understand what fittings are needed. The first time they come across an issue, he has them watch him do it and explains why things are done. The second time, he has them help him. The third time, he has them do it on their own.  He says it is important for them to keep their minds open (and his own) because you are still going to learn something new. #waterprofessional