Meet Communications Specialist Raven Reese. Raven has a fast-paced job working in CCWA's Communications & Community Relations Department. Like the duck calmly swimming across the water, her quiet approach belies an often-hectic schedule juggling many different tasks.
Her job involves internal and external communications, social media and community outreach. She helps keep employees in the know by producing CCWA's monthly employee newsletter; creating and posting content on employee information monitors; and assisting with CCWA's Change Champions Network and Innovation Team. When it comes to customer communications, she creates and manages content for CCWA's Facebook page and responds to questions and comments; maintains and updates CCWA's website; and develops quarterly customer newsletters, monthly bill inserts and annual reports.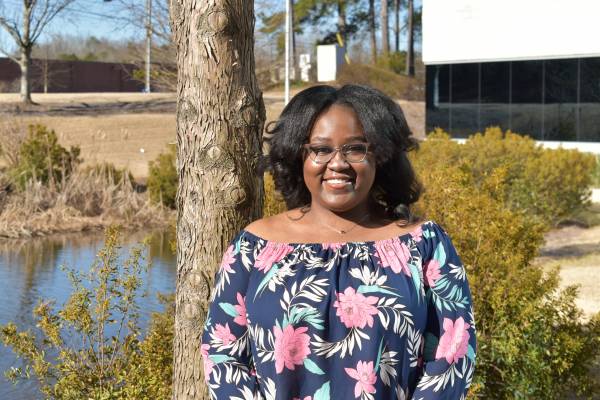 Raven is also very involved in community relations. This involves upholding community partnerships through public outreach and community events. During a normal year, CCWA participates in dozens of outreach events, such as our signature events (Wetlands & Watershed Festival, Household Hazardous Waste Collection Day, Rivers Alive, etc.), career days, workshops, etc.  Plus, participates in community events hosted by our local governments with our ever-popular Tap on the Go Unit.
For signature events, Raven assists with planning and creating promotional materials including flyers and social media content. When local partners ask CCWA to participate in events, she coordinates with employees (CCWA Ambassadors) to make sure someone is available to participate. She also prepares materials for distribution at the events and maintains records of all outreach events throughout the year.
Working in communications means you must be flexible and accommodating. Raven does a great job with both. "Not everyone is aware of what all goes into what we do in our department," she says. "I always feel especially accomplished when coworkers or customers express their gratitude for the extra steps we take to provide them with information."
Raven first started working at CCWA as a Communications Intern in 2018 while a student at Clayton State University. Her work as an intern was so impressive, she was hired full time.
"I became passionate about communications as a college student, so being able to apply the knowledge I gained to my job helps work not feel so much like work," Raven says. "I also love that I can be both independent and collaborative. As a young professional, it was important to me to find a job that gave me the freedom to problem solve while also creating a space where I can continuously learn from my peers and grow professionally. My position allows me to do those things."
Raven is active in the Georgia Association of Water Professionals Public Education Committee where she collaborates with peers from other water utilities on the most effective and fun ways to educate customers. She already has an industry award under her belt, as she played a major role in CCWA's annual water quality report that earned the Georgia Association of Water Professional's 'Best Consumer Report Award for Large Systems' in the fall of 2020.
What she enjoys most about her job is participating in outreach. "During my internship, I learned so much about the water industry and I was eager to share with anyone I could. There are so many misconceptions when it comes to tap water. I enjoy educating the community about the value of tap and our other key messages. It's also rewarding to be able to see our events evolve from early planning to showtime."
Adding a pandemic to the mix adds more work and creates her biggest challenge of finding a way to still engage with our community. "We want to be able to continue to educate our community on the value of tap water and the many ways to protect it, but not being able to see people face to face has made that difficult."
Other challenges include making sure the communications methods chosen are best for each audience. "I do my best to make sure that whoever is meant to receive the message (whether internal or external) doesn't miss something because I failed to deliver the message clearly," Raven says. Managing everything during outreach season can also get a bit crazy. Not only do planning periods for events overlap but it can get hectic coordinating with employees across different departments who often have various schedules. "It's always worth it to see our community enjoying themselves at our event." #waterprofessional