Vivian Baldwin
Board Member
Vivian Baldwin joined the Clayton County Water Authority Board of Directors in May 2017. She is a native of Atlanta, GA where she grew up on the northwest side of Atlanta, attending the historic Booker T. Washington High School and Spelman College. Baldwin earned a Master's degree in Library Science from the University of Kentucky. She enjoyed a 40 year career in public education.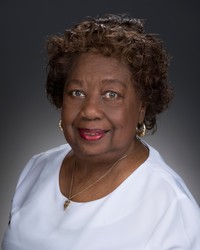 When she retired from Oakland Public Schools as a Media Specialist, she returned to Georgia with her husband, Ivan C. Baldwin, and moved to Clayton County where she has served her community in many capacities. Baldwin has been President of the AARP Riverdale Chapter 4409. She was formerly a member of the Executive Committee of the Clayton County Branch, National Association for the Advancement of Colored People (NAACP) from whom she received two leadership awards. In addition, she received the Leadership Award Certificate of Appreciation for dedicated volunteer service from the Older Atlantans Task Force.
Quietly and without compensation for her efforts, Baldwin has worked tirelessly to make life more efficient and safer for all citizens. She worked to get a cell phone lot at Hartsfield-Jackson Airport with her very influential writing skills. She can be credited with bringing the need for cell phone lots at Hartsfield-Jackson Airport to the attention of airport decision makers. Several weeks following her correspondence with Louis Miller, then Aviation General Manager at Hartsfield-Jackson, the Atlanta Journal Constitution reported that Hartsfield-Jackson was considering cell phone waiting lots. Hartsfield-Jackson Airport now has a cell phone waiting lot, a much-needed addition to the amenities available to travelers. In recognition of her commitment to Clayton County, Baldwin was awarded a proclamation from the Clayton County Commissioners for her community activism in 2011.
Today, she continues to give her all to improve the lives of others. She serves as a resource for the Bethsaida Woods Homeowner's Association to keep residents informed on community issues and hear their concerns. She participates in the AARP Riverdale Chapter. She is an active member of Riverdale First United Methodist Church. Vivian is proud to be a Life Member of the NAACP. She is a dedicated member of the Friends of the Library. One of her greatest honors is serving on the Clayton County Water Authority Board.
In her free time, she enjoys singing and spending time with family and friends.She is the proud mother of two adult children.