Temporary Hours of Operation:
Monday – Friday
9:00 AM to 5:00 PM
COVID-19 Trail Guidelines
1. All visitors over the age of two must wear a mask at all times.
2. Keep a minimum of 6' between you & other visitors.
3. Follow the directional signs along the trail.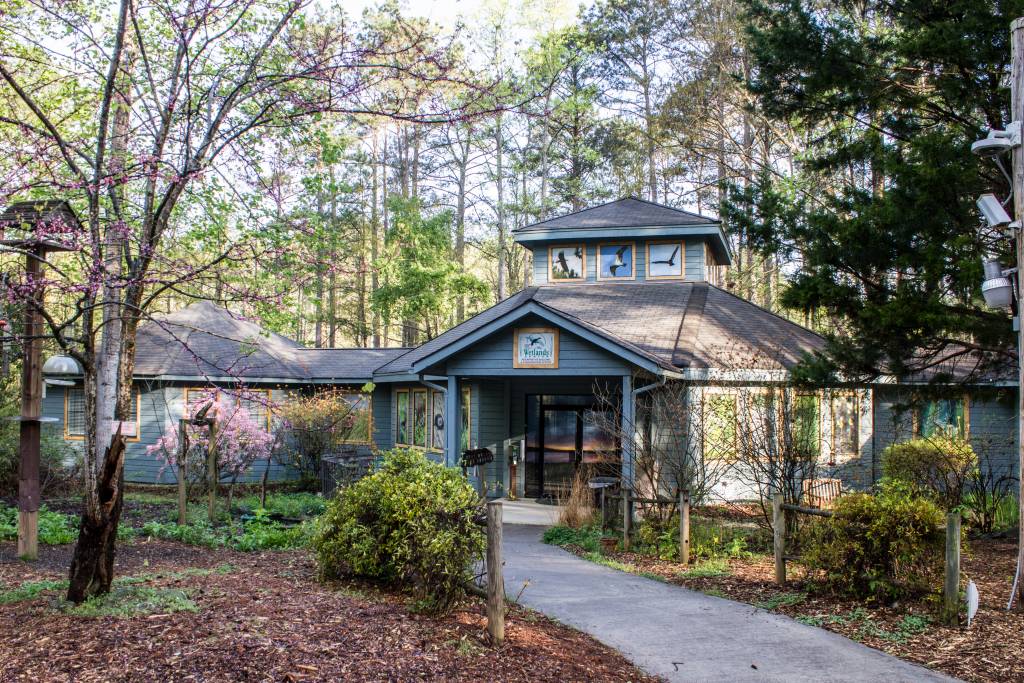 Melvin L. Newman Wetlands Center
Our mission is to educate the public on wetlands conservation and inspire community action for the health of our local watershed. 
History
Newman Wetlands Center is the focal point of the Clayton County Water Authority's community education efforts. NWC was conceptualized by Melvin L. Newman, then the general manager of CCWA, as a place for free community education about the crucial role wetlands play in the cycle of water.
The land, purchased in the 1970s, came with a rich history. Over the past century, it was used for timber harvest, cotton farming, and as a Boy Scouts of America camp for African American Scouts prior to the passing of the Civil Rights Act of 1964. Originally purchased to be a part of CCWA's former land application operations, the areas including Newman Wetlands Center and Camp Orr Lake were turned into a wetland mitigation site to replace wetlands flooded by the construction of Shoal Creek Reservoir. The mitigation project was done in several parts: the restoration of Pate's Creek, the conversion of Camp Orr Lake (site of the former Boy Scouts Camp Orr) into a restored wetland area, and the building of levees in the area that would become Newman Wetlands Center.
Since opening our gates in 1995, Newman Wetlands Center has provided a safe, outdoor learning space for hundreds of thousands of people across Metro Atlanta and an incredible wetland habitat for wildlife.
Trails
Our Boardwalk Trail is a 1/2 mile long and provides an easy walk on a surface alternating between crushed stone and wooden boardwalk. It is flat with several benches, covered areas, and great views. There are also two new primitive trails that loop back to the main trail.
Keep your ears and eyes open for wildlife while exploring the Boardwalk Trail. You may see a muskrat swimming, turtles sunning on a log, or a heron stalking a fish. Click here for a children's seasonal checklist of wildlife and plants.
Visitors are welcome to either wander through our wetlands on their own or they may wish to be part of a larger group guided by our staff. Groups of 10 or more who wish to tour the Center with a guide may reserve a time by calling 770.603.5606. For detailed information on guided programs, view our Guided Programs page.
We also host public programming for all ages throughout the year. Click here for a schedule.
Trail Hours – Open Daily:
March – October: 7 am – 7 pm
November – February: 7 am – 5 pm
Learning Center & Picnic Area
The Learning Center features an indoor classroom, exhibit area, and public restrooms. Exhibits focus on the importance of wetlands, CCWA's sustainable water re-use system, local wildlife, and conservation.
The classroom is used as a learning space and conference facility by local educators and conservation-oriented nonprofits. It is also home to Unfiltered, a wetlands-inspired art exhibit held during the month of February.
There are picnic tables are near the parking lot and are available on a first-arrival basis unless otherwise reserved for a scheduled guided tour. We do not rent the area for outside use. Please leave grills, balloons, and other plastic decorations at home.
Parking and admission are FREE!
Learning Center Hours:
Tuesday – Saturday: 9 am – 5 pm
Hours may vary based on staff schedule. 
Trail Guidelines:
Alcohol, smoking, and illegal drugs are strictly prohibited.
Service dogs are welcome. Other pets must stay at home.
Stay on the designated paths to protect sensitive plants & wildlife. No exceptions.
This is a wildlife viewing & environmental education facility. Please be respectful of those here to enjoy the peace & quiet.
No running, jogging, or riding bikes & scooters. This also includes dirt bikes, 4-wheelers, and motorcycles.
Leave no trace. Do not pick flowers, harm wildlife, collect any plant or animal, or litter.
Address & Phone:
2755 Freeman Road
Hampton, Georgia 30228
(770) 603-5606
We look forward to your visit!